Donkey Kong and Bowser join Skylanders Superchargers
Nintendo character Skylanders figures also usable as Amiibo.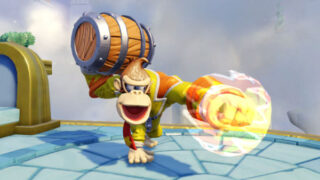 The Wii U version of Skylanders Superchargers will have two Nintendo guest characters, Nintendo announced.
The new characters and vehicles, which will be released in Skylanders/Amiibo hybrid figures, are Turbo Charge Donkey Kong and his Barrel Blaster vehicle, and Hammer Slam Bowser and his Clown Cruiser.
See both characters in action below.