Chibi-Robo! Zip Lash coming west in October
Chibi-Robo Amiibo also planned for western release.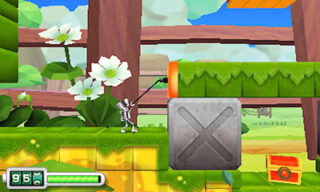 Nintendo has confirmed Chibi-Robo! Zip Lash, announced during yesterday's Japanese Nintendo Direct, will launch for 3DS in North America this October and in Europe this November.
The side-scrolling action game sees Chibi-Robo swinging his plug to whip enemies, reach far-off platforms, and solve environmental puzzles, as well as collect upgrades to extend his plug for getting hard-to-reach collectibles and uncovering hidden areas.
The Chibi-Robo Amiibo announced for Japan will also come west. When used with the game, the Amiibo transforms Chibi-Robo into the powerful Super Chibi-Robo in certain stages. Players can also level up the Amiibo to acquire a variety of in-game collectible figures and items by saving their scores at the end of each stage.
The news comes via a Nintendo Mini-Direct released today. Watch it below.
View the game's logo and Amiibo figure at the gallery.