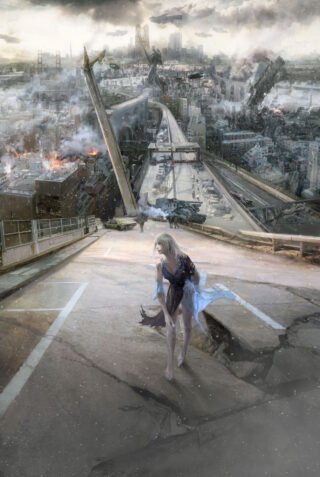 Final Fantasy XV: Episode Duscae, the demo included with early copies of Final Fantasy Type-0 HD, has a secret artwork movie awarded to players who finish the demo that shares "a hint of what's to come" for the title.
Warning: Potential spoilers below.
The movie shares more insight into what's happening in the world of Final Fantasy XV, and appears to suggest Final Fantasy Versus XIII's Stella Nox Fleuret is, in fact, the Luna mentioned in the game's more recent trailers. Or at least related to her, as the video shows her full name to be Lunafreya Nox Fleuret.
Here's the full transcript:
O'er rotted Soil, under blighted Sky, A dread Plague the Wicked has wrought. In the Light of the Gods, Sword-Sworn at his Side, 'Gainst the Dark the King's Battle is fought. rm the Heavens high, to the Blessed below, Shines the Beam of a Peace long besought.

"Long live thy Line and these Stones divine, For the Night When All comes to Naught." – Cosmogony 15:2, "Nadir."

Ignis: "Insomnia has fallen, laid to waste by the imperial army."

Gladiolus: "Fighting broke out at the signing last night. The Wall fell, the crown city followed. It rained fire around the Citadel."

Noctis: "Hold on…"

…announced that the terms of the ceasefire have been suspended in light of these events. In addition to the passing of King Regis, we've now learned that Prince Noctis and Tenebrae's Lunafreya Nox Fleuret have also been found dead.

Regis: "Take heed. Never bow out of what you begin. So long as you carry the blood royal, so long as you carry my name… carry your head high."
Watch the video below.