Night Cry to launch Kickstarter for PC version
Nude Maker wants to bring Clock Tower successor to bigger screens.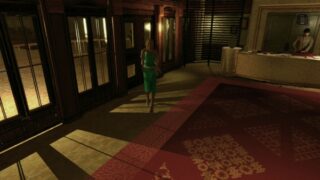 Nude Maker is planning a Kickstarter campaign for a potential PC version of its upcoming Clock Tower spiritual successor Night Cry, studio CEO Hifumi Kouno told Polygon.
If the campaign fails, a PC version simply won't be released. The game will be made for its previously announced PS Vita and mobile platforms regardless of the outcome, Hifumi said.
"Early on, I was concerned about playing a horror game on a smaller screen," Kouno said. "Maybe a tablet would be different, but still it's not a big screen. So yeah, I always wanted to bring it to the bigger screen. But at the same time, I had to think about the budget. That was one of the main factors; I had to limit it in order to keep it independent."
Polygon got a first look at a work-in-progress version of the game, and Nude Maker confirmed it would feature multiple playable characters. The demo featured a 'loud and confident' female, who talks to employees on and explores the game's cruise setting, before stumbling upon the Scissor Walker—Night Cry's version of Clock Tower's Scissorman.
Read more about the development of Night Cry at Polygon.
View the first work-in-progress screenshots of Night Cry at the gallery.