Hyperdevotion Noire limited edition announced
Includes game, wall scroll, art book, and collector's box.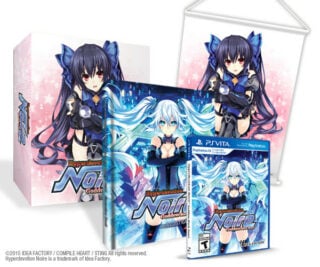 Idea Factory International has announced a limited edition for Hyperdevotion Noire: Goddess Black Heart.
Available exclusively at the Idea Factory Online Store, the $57.99 limited edition includes:
A copy of the game
"XOXO Noire" Wall Scroll (9.75″ W x 13.5″ H, 100% polyester) – Decorate your room with this forever adorable Noire artwork! With this high-quality wall scroll, your room will be brighter than ever with Noire's squeezable smile!
Illustration Book (5.5″ W x 7″ H, 46 pages) – This hardcover, full-color artbook is packed with special art and information about the characters in Hyperdevotion Noire: Goddess Black Heart. It also includes rough sketches, background art, CG illustrations, cute pixel art, and more.
Collector's Box (7.25″ W x 8.75″ H x 1.88″ D) – All Limited Edition items will be packed in this sturdy, double-layered box. With a full telescope design, fans need not worry about unpackaging dents!
Reversible Cover Sleeve Art – Can't get enough of Noire? No worries! Now, you can have the package art from the Japanese Standard and Limited Editions on your video game shelf!
Pre-orders for the limited edition will open on Monday, February 2 at 6:00 p.m. PST / 9:00 p.m. EST.
Hyperdevotion Noire: Goddess Black Heart is due out for PS Vita on February 24 in North America and February 27 in Europe.