Dragon's Dogma director teases new game announcement coming soon
More unannounced teases from Capcom.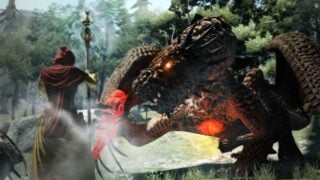 Dengeki PlayStation this week features a questionnaire with 107 game developers, including the director of Dragon's Dogma, producer of its Dark Arisen expansion, and the producer of the Sengoku Basara series.
Here's what they had to say:
Dragon's Dogma director Hideaki Itsuno: "We've got several games in the pipeline right now. One of them is even in the last stages right now. We should be able to announce it soon."
Dragon's Dogma: Dark Arisen producer Minaeu Matsukawa: "We're working really hard to get ready for people to learn about what we have coming up in 2015 and get them excited to play those games."
Sengoku Basara series producer Hiroyuki Kobayashi: "2015 will mark the 10th anniversary of the Sengoku Basara franchise. You can expect a lot of exciting announcements and developments in light of the occasion."
It might be worth noting that Dragon's Dogma Online was trademarked last week, and there was an interesting news post at the game's official site last week (which was since removed).
Thanks, Hachima Kikou.