Kenka Bancho 6 slated for January in Japan, school year schedule detailed
Here's how school life will develop in the upcoming sequel.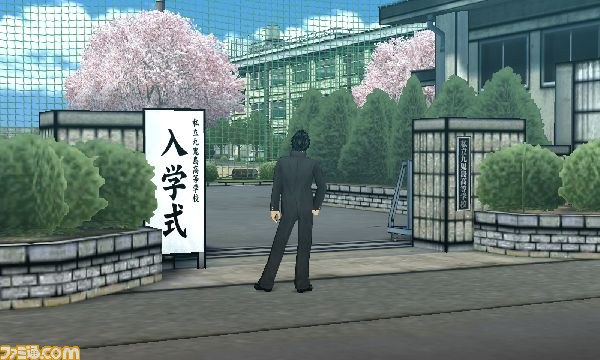 Kenka Bancho 6: Soul & Blood will launch for 3DS in Japan in January 2015 (Update: January 15), Spike Chunsoft announced.
Additionally, Famitsu went up with a preview detailing the game school year schedule. The game follows Daigo Asahina, a student at former delinquent high school Kukijima High who despises the school's current peaceful order.
Here's how your school life will play out:
Kukijima High School Curriculum

First Term [T1]

School Entrance Ceremony
Ball Game Tournaments
Summer Vacation

Second Term [T2]

Field Trip
Winter Vacation

Third Term [T3]

Finals
Graduation Ceremony
Let's look at each in greater detail:
[T1] School Entrance Ceremony
New students enter the gates of Kukijima High School with various expectations. What awaits the next three years of school life?
[T1] Ball Game Tournaments
A school event held every June for all students, where students of all grades can compete in sports games like tennis and volleyball. Tennis is played in single matches, while volleyball uses a two character system. Shoot for victory.
[T1] Summer Vacation
During summer vacation, players can take on part-time jobs and other leisures at Hanagasaki Beach by the school, as well as enjoy summer-specific events. Players can also meet a lot of characters through work—most notably a girl who works at the beach house by the name of Chihiro Nanase.
A list of some events:
Surfing – Ride waves and compete a high score based on distance and tricks. Performing special tricks will earn you a higher score.
Fishing – Enjoy fishing in the naturally rich sea of Hanagasaki Beach. The fish you catch can then be brought to your local fish market.
Beach Volleyball – Enjoy a two-on-two game of volleyball at the beach.
Part-Time Jobs – Take on part-time jobs at the Sea House and learn the value of manual labor. You can also refine your conversational skills to hit on people.
[T2] Field Trip
The sophomores go on a field trip in the second semester. Visit the ancient city of "Kyoto" with the other students and embrace its history and legends. Learn the importance of teamwork through group activities. Some of those activities might involve dealing with local delinquents.
[T2] Winter Vacation
Winter vacation lets you experience many event scenes between Christmas and New Year's. What will happen in the game's bustling town?
[T3] Finals
At the end of the third semester, you'll need to pass your finals to move on and graduate. Be adept in subjects like Japanese, math, English, and so on to pass. Get a failing mark (below 30 points) and you'll have to take additional tests to move forward in your school career.
[T3] Graduation Ceremony
After three years of high school life, the hero finally graduates. What kind of legacy did he create?
Match the Season
As the seasons pass, you'll be able to customize your outfit to match.
New Characters
Koichiro Takashi (voiced by Nobuyuki Hiyama) – A first year, he speaks in a strange way that mixes Hiroshima's local dialect with the sort of lines you'd expect out of a historical play. Able to hold his own in a fight, he can lift people up in the air with a single hand. Upon entering school and seeing its rampant chaos, he knew he had to do something. Often fighting alone to help maintain the peace, he's a misunderstood soul by many.
Hiroshi Aizawa (voiced by Yoji Ueda) – A first year, he helps manage the Onikisu, the school's biggest faction. Kurokawa's junior during middle school as well, he tends to get things done by virtue of his association to Kurokawa, rather than brute force, and as soon as he entered high school he immediately joined the Onikisu. On Ishizaki's orders, he sets off to find someone who can be responsible for the group's dirty work and comes upon the protagonist.
Eisuke Ishizaki (voiced by Kenta Miyake) – A second year, he's second in command of the Onikisu. When he first entered the school, he had a one-on-one fight with Kurogawa and lost. Ever since then, he's been Kurogawa's right hand man. Proud of his skills, he boasts to no end about how he's never lost a fight to anyone else. Deeply cunning at his core, he's widely feared by many in the school.
Dosan Kurogawa (voiced by Daisuke Egawa) – A second year, he's the head of the Onikisu. A quiet, yet ambitious person, he calculates every move he makes and doesn't go overboard and do anything recklessly. Still, get him in a fight and he'll corner his opposition and thoroughly ravage them.
Momotaro Nanase (voiced by Keiji Fujiwara) – The owner of the lone beach house on Hanagasaki Beach, he prefers to go by "Johnny." Hugely passionate about surfing, he can be seen catching waves whenever a window of opportunity pops up. The adoptive father to the school's current bancho, Ryuji Katagiri, he was also extremely close to Shin Katagiri, with whom he once endured life as a yakuza. After Shin died, he left the yakuza and opened the beach house to turn a new page in life.
Finally, watch some new footage from yesterday's Nintendo Direct below.
https://www.youtube.com/watch?v=hOMA3yTeOKA