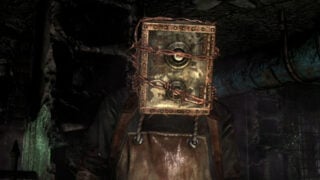 The latest trailer for The Evil Within, dubbed "Fight For Life," divulges strategies to survive the game's deadly creatures.
The origins of your enemies are unknown, but their intent is not. Known as "The Haunted," they are ruthless and powerful tortured souls driven by the goal to kill mercilessly. As you play, they'll stalk you relentlessly, and with low ammunition at your disposal, even a single enemy can kill you.
But it's not just enemies that you'll need to watch out for. Even the environment can pose a formidable threat. Tripwires, proximity explosives, and noxious gas are just a few of the hazards that threaten Sebastian. But paying attention to revealing clues can turn a trap into a helpful weapon.
While The Haunted are fearsome and the environment dangerous, some enemies are so powerful that not even death can stop them. The box-headed, hammer-wielding Keeper, for example, can kill you in a single strike. However, The Keeper's traps can be used to craft bolts for the player's most versatile weapon, "The Agony Crossbow." When bullets are nowhere to be found, a variety of bolts can be used with the crossbow to harpoon, shock, or freeze enemies.
The Evil Within is due out for PlayStation 4, Xbox One, PlayStation 3, Xbox 360, and PC on October 14 in North America and Europe.
Watch the trailer below.