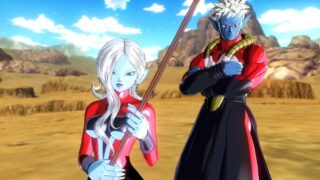 Dragon Ball Xenoverse will come to PC via Steam in addition to PlayStation 4, Xbox One, PS3, and Xbox 360, Bandai Namco announced at the Tokyo Game Show.
New characters set to join the game's cast were also introduced.
Mira is an artificial creature aiming to be the strongest in the universe. And Towa is a dark scientist from a demonic world. Both are up to no good, with plans to "change the Dragon Ball universe as we know it." Just as the evil Babidi did in the past, the pair are gathering as much "Kiri" as possible. But no one but "The Supreme Kai of Time" knows why.
The Supreme Kai of Time looks like a child, but is far from being one. A deity, ot first showed up 75 million years ago, and seems closely tied to the bird "TokiToki." Behind this disturbed and peculiar bird lies "a very powerful life-form that can produce time."
Players will create their own character in Dragon Ball Xenoverse. Trunks goes out looking for someone worthy enough to take on Mira and Towa after discovering their plans, before stumbling upon you, the player.
As the game's heroes, players will have to train their Avatars, which they can do by carefully choosing which Dragon Ball character they want to have as a "Master." All the skillset and training patterns vary depending on which Master (such as Goku, Vegeta, etc.) players choose. The Master system also allows the player's sensei to intervene on the battlefield when the player is in a pinch.
Watch a new trailer below. View 30 new screenshots at the gallery.