Terra Battle story, characters, and system detailed, gameplay and official trailer
Sakaguchi's free-to-play game can eventually come to consoles.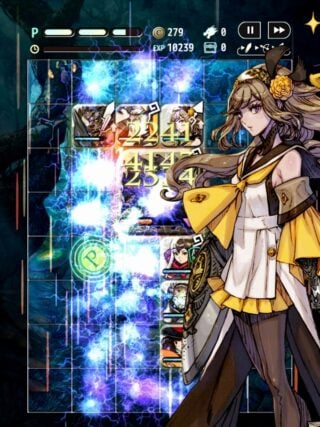 Mistwalker has detailed the story, characters, and gameplay systems, as well as opened pre-registration for Terra Battle, its upcoming free-to-play smartphone game from Hironobu Sakaguchi.
To pre-register, simply follow the game on Twitter. When the game is released, the account will tweet a serial code, which can be redeemed for five "Energy" in the game.
Additionally, Mistwalker also officially announced the game's "Download starter" campaign first detailed in Famitsu earlier this week. Here's the full rundown:
100,000 downloads – New music by Nobuo Uematsu
200,000 downloads – New characters by Hideo Minaba
300,000 downloads – New characters by Nakaba Suzuki
400,000 downloads – New characters by Hitoshi Yoneda
500,000 downloads – New characters by Manabu Kusunoki
600,000 downloads – New characters by Kimihiko Fujisaka
700,000 downloads – New characters by by Naoto Oshima and start development of co-op battle mode
800,000 downloads – Start production of a Terra Battle Strategy Guide
900,000 downloads – Music from the Terra Battle soundtrack will be free to download
1 million downloads – Live concert, start development of VS battle mode, and start production of battle scene illustrations
1.1 million downloads – "Bearded Sakaguchi Boss" arrives
1.2 million downloads – More music by Nobuo Uematsu
1.3 million downloads – Start production of Terra Battle Art Book
1.4 million downloads – Start prouction of Terra Batlte figures
1.5 million downloads – New characters by Yoshitaka Amano and new scenario by Yasumi Matsuno
2 million downloads – Start development on a console version of Terra Battle
Find story, character, and gameplay details below.
Story

The story takes place on a land headed for destruction. Humans mainly occupy the land, accompanied by LizardFolk and BeastFolk. In this world, each group speaks in its own language about the Maker, in which nobody can confirm its existence, or know its truth.

All that is known is that the Maker resides deep underground. Everyone gathers at the capital to embark on a journey to discover more about the Maker

During their travel, they uncover myths unspoken and delve deeper and further to discover the truth.

They have a long and deep road ahead. Are they headed for light or nothingness (Zero)…

Characters

Amina (Staff/Recover, Human) – Amina is a 20-year-old nurse who is always among the first to swoop onto the scene in times of crisis.
Ba'gunar (Sword/Lightning, LizardFolk) – Ba'gunar, the self-proclaimed king of the lizardfolk, fell into hibernation when he stumbled into a trap at the top of the Tower of Temptation, an arcane structure built by the primordial civilization of Gallus.
Gugba (Sword, BeastFolk) – Gugba is short and stout, and he barely has a neck. The beastman warrior rather resembles a member of the extinct dwarven race.
Daiana (Staff/Fire, StoneFolk) – Daiana is a beautiful stonewoman with long, flowing hair. On closer inspection, it is apparent that her hair is actually magma that streams steadily from her head.
Hiso (Arsenic) Alien – The Origin of Hiso (Arsenic) Alien: On December 2, 2012, NASA made an announcement of the discovery of a new bacteria which makes DNA with arsenic instead of phosphorus. It was quite disappointing news for many people because prior to the official announcement, we have been informed that the announcement will be about the discovery of astrobiology which affects the quest for evidence of intelligent extraterrestrial life. On the internet, there were many speculations, such as it could be discovery of intelligent extraterrestrial life, or discovery of UFO debris. Many people were very excited and the discussion was heated. During those hype time, Hiso Alien was born. Recently, some researchers have been doubting the evidence for this bacteria; even its existence is shaky. At the end, Hiso Alien might be the only survivor?!

Game System

"Flank enemies by freely moving your characters across the battlefield."

Defeat your foes by moving across the grid and swapping positions with other friendly units to prepare a devastating pincer attack.

"Setup a combo with your allied units to obliterate your foes."

Combos are triggered by strategically positioning your characters. Combine these with bonus items found on the map to deal extra damage!

"Optimize your characters by customizing their jobs and skills."

Choose from three different job paths for each unit. Combine these with your newly acquired skills to create the perfect mercenary to suite your unique battle plans.

"Experience an expansive world with hundreds of maps and characters."

Achieve victory to unravel the many mysteries of this realm. Enemies with unique characteristics will assail you across countless battlefields.

"Experience a timeless score by industry legend, Nobuo Uematsu."

Nobuo Uematsu has crafted a gorgeous soundscape to accent the world of Terra Battle. His music brings depth to the story and a dynamic charge to the battles.
Finally, watch the game's six-minute official trailer below. View a new set of screenshots at the gallery.