XSEED localizing latest Harvest Moon as Story of Seasons
Harvest Moon gets a new name as it switches publishers.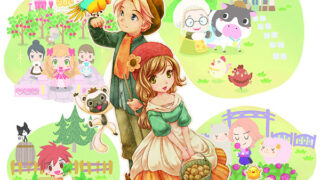 XSEED Games is localizing the latest Harvest Moon game, known as Harvest Moon: Tsunagaru Shin Tenchi in Japan, as Story of Seasons. That's just Story of Seasons—not Harvest Moon: Story of Seasons.
Since XSEED, a subsidiary of Marvelous AQL, is taking over localization duties, it can't use the Harvest Moon name, which is owned by Natsume, who has localized the series up until now. In Japan, the series is known as Bokujo Monogatari (Farm Story), thus the different owner of the English name.
Story of Seasons, due out this year in North America, will let players fully customize their own character and become the newest resident of Oak Tree Town, a small settlement filled with "promises of new beginnings" and "hard work and significant relationships." Players will tend to crops, become an everyday farmer, and amass the resources necessary to customize and expand their farms.
Thanks, IGN.