Inazuma Eleven Online game contents detailed
New screenshots of the upcoming soccer MMO.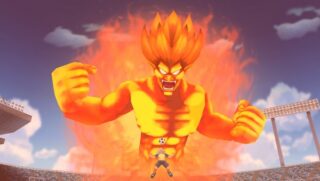 Inazuma Eleven Online, first announced last August, is currently in a test trial phase. From today until April 30, the number of players are limited. But the game will officially launch next month, and today, Level-5 and NHN PlayArt shared new details and screenshots. 
From children to adults, everyone can enjoy this action and simulation soccer game. Through simple mouse operation, players will be able to unleash intense special movies, experience high action scenes, and organize and strategize their teams.

"Deadly Breaks" are powerful special moves that affect the entire team. Your players' movement speed will double, and your opponents' finishing moves will be contained. The more the opposing team attacks you, the better your chances that a Deadly Break will trigger, giving you a shot at reversing your fortunes when you're in a bind.

Players on your team can earn points and rewards by participating in games. As your team grows, players can band together in a number of ways, racking up experience points and leveling up. If the same players keep working together, they can even break past their level cap, enabling them to hone their dormant abilities further.

Players can make use of over 200 special moves, the power of which is depicted clearly thanks to the game's high-resolution graphics.
View the screenshots at the gallery.