Serious Sam 3: BFE due out on PSN this year
Serious Sam 4, indie projects, and new IP also coming.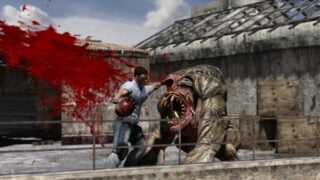 Serious Sam 3: BFE will come to PlayStation Network this year, Croteam CEO Roman Ribaric told Seriously!
According to Ribaric, the game has already been submitted to Sony for approval of the finished product and for a worldwide release date.
Serious Sam 3: BFE first launched for PC in November 2011, followed by an Xbox 360 release in October 2012.
Ribaric also touched a bit on Serious Sam 4. It's planned for release later this year, and won't have any cowboys or "big fluffy creepers." Further details weren't provided.
Serious Sam Revolution and Serious Sam Origins, a pair of indie-developed projects, will launch in between Serious Sam 3: BFE and Serious Sam 4.
Finally, Ribaric also teased a new IP from Croteam. According to the CEO, the game is a cross between Portal and The Witness, leading us to believe it's a first-person puzzle game. It will have a type of humor that is very different from Serious Sam and launch later this year.
Thanks, NeoGAF.