Stealth Inc: Ultimate Edition announced for PlayStation 4
The first in Curve Studios' month of game announcements.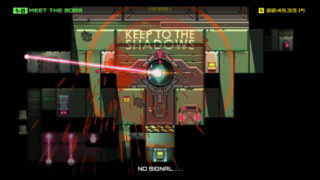 Curve Studios is bringing its PlayStation 3 and PS Vita stealth platformer Stealth Inc to PlayStation 4 as Stealth Inc: A Clone in the Dark Ultimate Edition in early March, the studio announced.
The PlayStation 4 version includes both post-release expansions, 'The Lost Clones' and 'The Teleporter Chambers,' bringing the level count to over 120. The game will also have new achievements and leaderboards. It won't be cross-buy compatible with previous versions, but Curve is "looking into" ways to discount users who already purchased previous versions.
Stealth Inc: Ultimate Edition is the first in Curve Studios' month of game announcements. The studio will announce a new game every Wednesday. This is the only announcement that is a port of its 2013 releases, and "all the others are games never before seen on a PlayStation console."