Ranko Tsukgime's Longest Day coming west this spring
Namco Bandai bringing Short Peace game via PlayStation Network.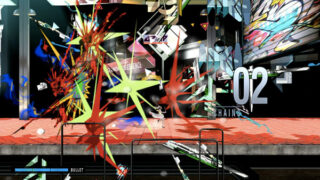 Namco Bandai is bringing Ranko Tsukigime's Longest Day to PlayStation 3 in North America and Europe via PlayStation Network this spring, the company announced.
Additionally, it is also localizing Short Peace, the anime film anthology on which Ranko Tsukigime's Longest Day is based. The Short Peace film consists of four parts: Possessions, Combustible, Gambo, and A Farewell to Weapons. Ranko Tsukigime's Longest Day is considered the fifth part of the anthology.
Ranko Tsukigime's Longest Day is a 2D side-scrolling action game directed by Grasshopper Manufacture's Goichi "Suda51" Suda and developed by Tokyo Jungle studio Crispy's. It stars Ranko Tsukigime, an average high school girl by day, and a deadly hitman by night. One night, when Ranko heads out to eliminate her next target, a demonic enemy organization creeps up and threatens the lives of Ranko and her friends. In order to escape the demons chasing Ranko, players must constantly run to the side of the screen, using Ranko's bow to unleash melee attacks and violin to fire bullets in the process.
When enemies are hit, the screen will light up with flashy effects. These effects can hit other enemies, creating combo chains. Players can interact with the effects, as well, using them as platforms to reach higher platforms.
The game can be completed in approximately two hours, Namco Bandai told Polygon. Replay value comes in the form of unlocking concept art and costumes.
Watch a new trailer below. View a new set of screenshots at the gallery.