Instruct your partner in Sword Art Online: Hollow Fragment
Latest images show instruction command, Hollow Missions, and more.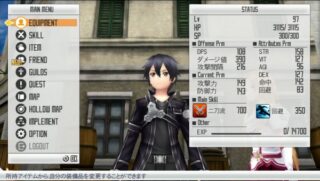 The latest set of Sword Art Online: Hollow Fragment screenshots provides new details on the game's instruction command, battle system, and Hollow Missions.
The instruction command enables players to provide their partners instruction during battle in real-time. Instruction commands include: skill instruction, technique-stopping instruction, defense action instruction, and recovery instruction.
Hollow Fragment's battle system lets players with their partners communicate in real-time. Collaboration with partners is an important element of the system.
When Kirito clears Hollow Missions, he'll reap various benefits, including items and, at times, sword skills and new systems. There are a large variety of missions which range from low to high difficulty, so it's wise to do missions matching your current level.
The screenshots also show off the game's anime-inspired user interface, online multiplayer mode, and CG event scenes. View the images at the gallery.
Sword Art Online: Hollow Fragment is due out for PS Vita in Japan on April 24.