Rosalina playable in Super Mario 3D World
Ten new things you can do in the upcoming Wii U game.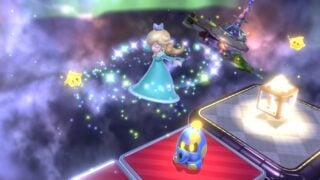 Super Mario Galaxy princess Rosalina will be an unlockable fifth character in Super Mario 3D World, due out on Wii U next Friday.
Nintendo released a trailer today detailing ten new things about the game. We've listed them below, though some might be considered a tad spoilerish.
Interact with stages using the touchscreen and microphone
Catch a ride on the Golden Train overflowing with coins
Captain Toad levels: Collect five stars in a puzzling 3D world without jumping
Speed-run to the end of levels with the clock set to 100
Complete rapid-fire challenges for green stars in mystery houses
Take on a giant boss as an ever-growing army of clones
Cut down waves of enemies in an old-school top-down shooter stage
Dash to the finish Mario Kart-style in a kart-style stage
Unlock the game Luigi Bros. if you have New Super Luigi U save data
Unlock the fifth character Rosalina from Super Mario Galaxy and use her spin attack
Watch the new trailer below. View screenshots of Rosalina at the gallery.