GungHo Online Entertainment opens TGS 2013 website
Puzzles & Dragons Z and Ragnarok Odyssey Ace confirmed.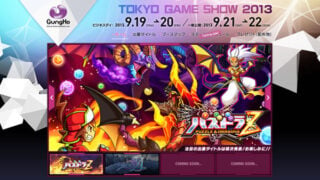 GungHo Online Entertainment has launched its official Tokyo Game Show website.
Its currently confirmed lineup includes Puzzle & Dragons Z for 3DS and Ragnarok Odyssey Ace for PS Vita. It also has two "Coming Soon" blocks under its exhibiting titles, so it's likely the company has unannounced games prepared for the show.
Attendees who play Puzzle & Dragons Z at GungHo's booth will be able to take home a special "Puzzle & Dragons Z Limited Challenge Edition" demo.
The Tokyo Game Show runs from September 19 to 22.