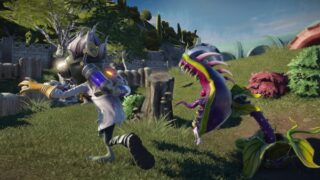 Peggle 2 and Plants vs. Zombies: Garden Warfare will arrive first on Xbox One, Microsoft announced during its Gamescom showcase.
Peggle 2 will be available at the system's launch, and Plants vs. Zombies: Garden Warfare will launch sometime in 2014. Find some details below.
Peggle 2
Launching later this year exclusively on Xbox One first, Peggle 2 propels players to the peg-popping paradise of the original whilst delivering a host of new features. Unveiled at Gamescom, Peggle 2 offers all-new levels, new and improved power-ups, fantastic multiplayer modes, gesture controls with Kinect for Xbox One, the ability to customize the Peggle Masters who host the game, and much more.
Plants vs. Zombies: Garden Warfare
New features showcased at Gamescom include 24-player multiplayer action, 4-player online co-op, personalization of your favorite plants and zombies with hundreds of unique items, plus Xbox One exclusive modes: 2-player split screen co-op, and Kinect and SmartGlass gameplay in Boss mode.
Thanks, CVG.