Etrian Odyssey: Millennium Girl announced for 3DS
New Etrian Odyssey adds fixed characters, amnesia girl.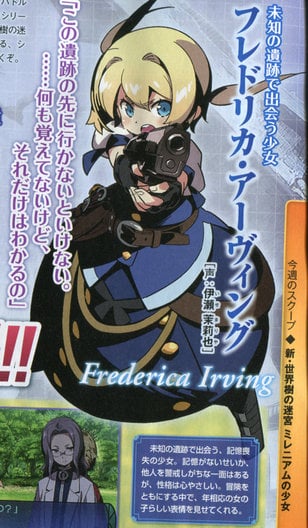 Atlus' new Etrian Odyssey teased yesterday is Etrian Odyssey: Millennium Girl for 3DS. It will launch in Japan on June 27 for 6,279 yen.
The story revolves around strong earthquakes and mysterious roaring in Etria. The protagonist (voiced by Kousuke Toriumi), a spear-wielder from the Highlander clan, is asked by the government of Etria to investigate and explore the ruins. Three other companions meet him on his investigation, and together go as far as the World Tree, which seems to have a deep connection to the ruins. During the investigation, they meet Frederica Irving (voiced by Maria Ise), a girl who lost her memories. She is a kind-spirited girl, but is wary of others, possibly because of her amnesia.
Those three companions include:
Simon York (voiced by Daisuke Ono): The leader of the investigation party sent by the "Mizugaruzu" Library. He's very smart and knows a lot about ancient civilizations and labyrinth monsters. He's also a medic and can calmly aid his companions no matter the circumstance.
Arthur Charles (voiced by Toshiyuki Toyonaga): A member of the investigation party. As an alchemist, he is good at elemental attacks. He doesn't think too hard about anything, so he sometimes talks big. Though, he has a tremendous amount of faith in Simon.
Lacoona Sheldon (voiced by Shizuka Ito): A baladine and woman at the vanguard of the investigation party. She's from a noble family, but has an open and modest personality. She has a strong sense of justice and plenty of common sense, but loses her head when it comes to good food.
Each character will have the potential to learn various skills depending on their class. Skill points are limited, so which skills are prioritized is up to the player.
When you change classes, you'll keep the same appearance and stats, but acquire the skills of another job.
Players will get missions from the Etria government, as well as necessary information and equipment. It's recommend you visit various shops to prepare for your journey. If you have a mission or quest you can report on, their notification marker will appear on the right side of the screen.
During event scenes, each party member will have multiple portrait pictures with many expressions.
Map icons are essentially the same as Etrian Odyssey IV. And the skill tree is horizontal, also like IV. But this time, there are no "Novice" or "Veteran" descriptors.
According to director Shigeo Komori, there are people who think the series needed some new energy, since it's based on this fixed concept of the World Tree labyrinth. So they focused on the production side and churned out Millenium Girl.
"The fun of the RPG was left just as it was, but since we've strengthened the story and characterization, this game will make it all the more easier to enjoy the true essence of the RPG," said Komori.
Finally, here's the game's main staff:
Director: Shigeo Komori
Character Design: Yuji Himukai
Monster Design: Shin Nagasawa
Music: Yuzo Koshiro
Thanks, Game Nyarth.