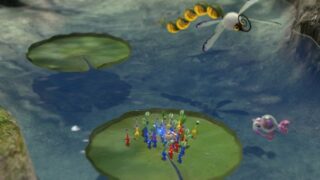 Today's Nintendo Direct broadcast brought new release details, release dates, trailers for upcoming Wii U and 3DS titles. Find our full summary below.
3DS
Animal Crossing: New Leaf
The 3DS Animal Crossing will launch in Europe in Q2 2013. A U.S. windows was previously announced to be the first half of 2013.
Fire Emblem: Awakening
Nintendo will release Fire Emblem: Awakening for 3DS in North America on February 4, 2013 and in Europe during April.
Luigi's Mansion: Dark Moon
Nintendo will launch Luigi's Mansion: Dark Moon in North America and Europe during spring 2013.
New Super Mario Bros. 2
The latest download content for New Super Mario Bros. 2 is available today. "Coin Challenge Pack C" and "Platform Panic Pack," each consisting of three levels, are available through the in-game eShop today.
Rhythm Hunter: HarmoKnight
HarmoKnight, the latest game from Game Freak, the developers behind the Pokemon games, is coming to the North American eShop. A European release was previously announced for March.
Wii U
Game & Wario
Game & Wario will have a total of 16, two-screen mini-games that support up to five-person multiplayer on a single GamePad. A new video below showcases Fruit, one of the games within the collection.
Google Maps
Google is bringing its Maps service to the Wii U eShop in Q1 2013. This will allow users to browse Google Maps in StreetView using the GamePad's gyro control as part of Wii U Panorama View. You'll be able to view the maps both on the TV or on the GamePad.
LEGO City Undercover
Nintendo shared a new gameplay trailer for LEGO City Undercover. The footage shows introduces several vehicles, characters, boat building, wall jumping, baddie disposal, and jail breaking. The game will launch in North America and Europe in Q1 2013.
Ninja Gaiden 3: Razor's Edge
Kasumi from Dead or Alive is coming to Ninja Gaiden 3: Razor's Edge as a free downloadable character. She'll be made available during a free update.
Pikmin 3
Pikmin 3 will arrive in North America and Europe during the second quarter of 2013, and in Japan during spring 2013. Watch a new trailer below.