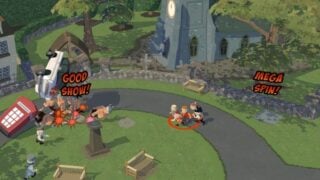 When Vikings Attack!, Clever Beans and XDev's upcoming PlayStation 3 and PS Vita download title, will launch via PlayStation Network on November 6 in North America and November 7 in Europe and Australia for $9.99 / €9.99 / £7.99, publisher Sony has announced.
The game is a part of Sony's Cross-Buy initiative, so no matter the version you buy, you'll get the other version free of charge. European consumers can pre-order the game and save €3. The UK price, with pre-order, comes out to £5.49.
When Vikings Attack! is a an "all-action fighting adventure" game where viking invaders wreak havoc upon the city. PlayStation 3 owners will be able to play against friends on PS Vita and vice-versa, and save data can be shared across both versions. The game will offer two game types – "Quest" and "Vs" – with Quest offering 15 levels, and Vs offering 20 arenas and three play types: "Last Man Standing," "Vikings vs. Vigilantes," and "Gold Rush."
View two new screenshots at the gallery.
Thanks, PlayStation Blog.