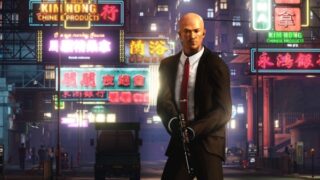 Square Enix has announced a plethora of new Sleeping Dogs content set to arrive for the holiday season, including add-ons, character packs, and martial arts missions.
The holiday content will kick off today with the Dragon Master Pack, "a collection of weapons, character upgrades, martial arts moves and missions" made previously available to pre-order consumers, and the Square Enix Character Pack. The rest of the content will be released throughout the season.
Find the full list of add-ons below. View screenshots of the DLC at the gallery.
Dragon Master Pack: November 13 (XBL, PSN NA, Steam, 640MSP / $7.99 / €6.49 / £5.10), November 14 (PSN EU, €6.49 / £5.10))
Featuring five pre-order packs in one, the huge Dragon Master Pack is the ultimate collection of killer content for Sleeping Dogs. Each of the below packs are included, also available to purchase separately:

Triad Enforcer Pack: It's a high-speed shoot-out in Triad Highway; armed with a high-capacity machine gun, fight a tide of Triads… after your head. Death by 1,000 Cuts puts you in a brutal fight club taking on the Triads with a razor-sharp golden cleaver. Wear the Triad Enforcer outfit for added Face and more punishing damage.
Police Protection Pack: Unlock the exclusive High Speed police mission featuring the SWAT outfit, SWAT Police Cruiser car and SWAT Assault Rifle.
Martial Arts Pack: Unlock the Shaolin Warrior outfit (with increased melee damage), the Shaolin Showdown mission and Wing Chun dummy decoration for your safe house.
GSP Pack: Dress like Mixed Martial Arts champion Georges "Rush" St-Pierre with this collection of shorts, t-shirts and bandana, and devastate your enemies with GSP's signature flying punch. Also adds increased grappling and throwing damage.
Deep Undercover Pack: Unlock the Plain Clothes Detective outfit (with a reduced heat penalty), the Undercover Police Ghost Car and a CB Radio for your safe house.
Each pack  can be purchased separately for 240 MSP / $2.99 / €2.49 / £1.99.

Drunken Fist Pack
With the Drunken Fist pack, Wei unleashes this exclusive fighting style. While in combat, filling the face meter will enable Wei to drink from a flask of potent alcohol and perform unique special moves and powerful counters.

Square Enix Character Pack: November 13 (XBL, Steam, 160MSP / $1.99 /€1.49 / £1.19), November 14 (PSN EU, €1.49 / £1.19), November 20 (PSN NA, $1.99)
Become a silent assassin, augmented warrior or king of chaos! Wei Shen dons new disguises in this pack, with three new outfits and three new weapons from Square Enix's Hitman, Just Cause and Deus Ex games. Each outfit includes its own buff and signature weapon.

Hitman outfit: Agent 47's suit grants reduced attention from the police and comes with a silenced Silverballer. Assassinate your enemies with stealth, Hitman style.
Deus Ex outfit: The Sarif Industries armor reduces gunfire damage by 33% and comes with a futuristic, fully automatic combat rifle. This technology really is decades ahead of its time.
Just Cause outfit: The Rico Rodriguez custom outfit allows you to hijack vehicles from a greater distance and comes with Rico's signature pistol, which can fire explosive shells. Liberate those drivers at high speed!

Gangland Style Pack
Topple the Triads in street style with a Japanese Yakuza, Russian Mafia, or Maori Mongrel Mob tattoo, each with their own buff.

Zodiac Tournament Pack
Join Wei Shen for the fight of his life in the second gameplay-extending add-on pack. Invited to an exclusive tournament on a hidden island off the coast of Hong Kong, Wei must overcome the best-of-the-best as he takes on fighters from across Asia in a fight to the death.

A new island off the coast of Hong Kong, featuring multiple themed fight arenas, new enemies, bosses and story-extending cutscenes.
Two new unlockable outfits featuring new looks and powerful new fighting moves.