Senran Kagura: Shinovi Versus producer talks PS Vita, breasts
The lower contents of this article are probably NSFW.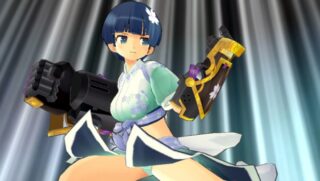 Famitsu this week sat down with Marvelous AQL producer Kenichiro Takaki to discuss upcoming PlayStation Vita game Senran Kagura: Shinovi Versus. 
Shinovi Versus features 3D fields, an upgrade from previous entries' 2D fields, so now the degree of freedom is higher. The game system has been improved, as well, so that even players who aren't good at action can get a taste with "Gaccha Play" (I'm not sure what this is, sorry) without spoiling the best of the series.
All of the game's available costumes will rip when damaged, and development on the changing room is complete. All the characters can joint-own the costumes, and all of their models have been remade for PS Vita.
Regarding the appearance of previous player characters, Takaki said, "please expect it." A third, secret ninja art is also being prepared.
The "V" instead of "B" in Shinovi Versus is a representation of the series' entry on PlayStation Vita, according to Takaki.
"Normally when you are developing for multiple platforms, you try to make the game system balanced for each platform but in doing so I think you sully the good points of the platforms," he said.
But why is Marvelous AQL putting the next Senran Kagura on PlayStation Vita?
"Because I wanted to make tits that could be licked," said Takaki.
"Tits are life, ass is hometown."
Takaki said Marvelous AQL also plans to continue the series on 3DS, so he'd be happy if all the Kagura get a lot of love.
Thanks, Game Jouhou.