Tales of Xillia 2: story and gameplay details
Elle an NPC heroine. Ludger burdened with debt.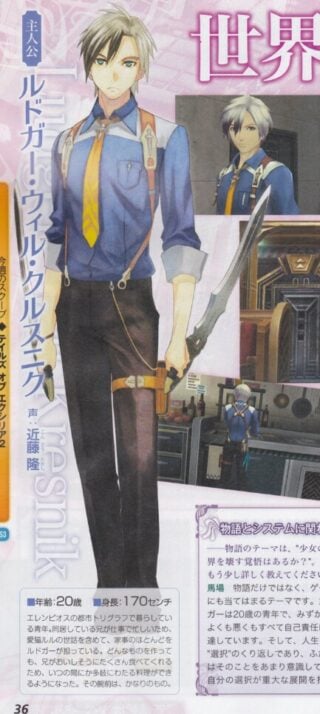 Famitsu this week has new details on Tales of Xillia 2 (including official name romanizations). Get the lot of them below, courtesy of Tokkurin.
Characters
Ludger Will Kresnik (Age: 20, Height: 170cm) – an ordinary young man who lives with his older brother in a city called Trigraf. While his brother is at work, Ludger takes care of the housework, his pet cat Lulu, and cooking. Over time, Ludger's cooking skills have grown to become quite considerable, allowing him too cook up a wide range of different foods. Ludger aims to work for Clanspia, Inc., a company whose headquarters can be found in Trigraf. However, he failed to get a job at Clanspia, and currently works at a restaurant in one of Trigraf's train stations. One day, he is involved in an incident with Elle, who he has not met until then, on his way to the station. Ludger is a man burdened with both heavy debt, and the world's fate. His last name, Kresnick, is significant, according to producer Hideo Baba.
Elle Mel Mata (Age 8, Height: 130cm) – Elle is on a journey to the "Land of Canan," a place where wishes are said to come true, to help her father. She bumps into Ludger in Trigraf, who promises to accompany her on her journey. Once a spoiled and shy type, she makes the best of her mind to try and save her father. She carries around her father's pocket watch, which he gave to her. Elle is the youngest Tales character in history and the second non-playable heroine following Tales of Rebirth's Claire. She will not participate in battles.
Lulu – originally owned by Ludger's older brother, Lulu is a cat who has since become more attached to Ludger, as his brother is always at work. A chubby cat, Lulu is not shy, and is the leader of the neighborhood felines. She accompanies Ludger and Elle on their journey to Canan, and takes a liking to Elle. Lulu is more of a mascot character than a key character. She "meows" very cutely and cannot talk in human speech.
Battle System
The XDR-LMBS battle system will combine the best of Xillia and Graces' battle systems.
"Weapon Shift" is Ludger's special ability in battle. He is able to switch between a pair of swords, guns, and a two-handed hammer on the fly by pressing the L1 and R1 buttons simultaneously. To switch in reverse order, players can use the L1 and R2 buttons. Other characters will have different abilities.
Keywords
Jin – allows mana to be mass produced with the sacrifice of spirits. Elenpios limits its use to short periods of time, however, which does not require spirits to be sacrificed.
Origin – a not-yet-in-use next-generation system being developed to allow one to perform magic without sacrificing spirits.
Clanspia, Inc. – a company with a large headquarters building in Trigraf. The company boasts shares in a number of areas. It once planned to take energy from an alien world, however, it has since been instructed to build harmony with Liese Maxia. Clanspia creates products that improve people's level of living. They also offer monster and guard services. Ludger wants to work at Clanspia to improve his image. There is a reason the game is focused on this corporation, according to Baba.
World Affairs – although Liese Maxia and Elenpios are showing signs of reconciliation, there is still a spark of conflict due to differences in ideas and culture.
Status and Other Bits
Tales of Xillia 2 is currently 60 percent complete.
Baba would not say whether or not players will travel to Liese Maxia, but he promises to answer players' expectations.
The game is not simply about saving or destroying the world for a girl. Players can seek out other solutions. Depending on your choices, you will see change in the game's progression. However, there is still a major path the story will follow.
Unlike Tales of Xillia, which was meant to give players the impression they were traveling as a party of characters, Tales of Xillia 2 will make you feel as if you are playing as Ludger.
Mutsumi Inomata (designer of Milla in Tales of Xillia) and Kosuke Fujishima (designer of Jude in Tales of Xillia) have a role in the game.
More characters, story, and system details will be revealed soon.
Screenshots
Scans