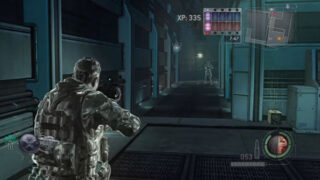 Capcom today shared the complete list of versus modes available in its upcoming Resident Evil: Operation Raccoon City. Players will go head-to-head in four-on-four online team battles, playing as either a member of the Umbrella Security Service or the U.S. Spec Ops.
The following multiplayer modes will be playable, courtesy of Capcom:
Team Deathmatch – battle for kills in brutal triple threat chaos that leaves players never knowing what's behind them, an element that could only exist in the twisted Resident Evil universe.
Biohazard Mode – ensure that samples of the G-virus are returned safely to their base while fighting off all the competing forces at play in Raccoon City.
Survivors Mode – try to survive the horror just a little bit longer while waiting for rescue. There's limited space on board a helicopter so fight off the opposition and survive the hordes of hungry zombies, risking infection if they get too close. Try to make it out of Raccoon City alive!
Heroes Mode – allows fans to play as one of their favorite Resident Evil characters, including Leon S. Kennedy, Hunk or Jill Valentine.
A trailer for the multiplayer modes can be seen below.