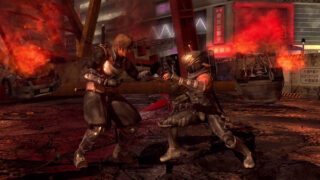 Tecmo Koei today released an extended version of the Dead or Alive 5 trailer debuted at the Tokyo Game Show.
The video, made up of pre-alpha footage, shows off one of the game's new stages. Ryu Hayabusa, of Ninja Gaiden fame, and Hayate face off in a flame-engulfed arena.
Watch the clip below.
Dead or Alive 5 is scheduled to launch for PlayStation 3 and Xbox 3606 in 2012.