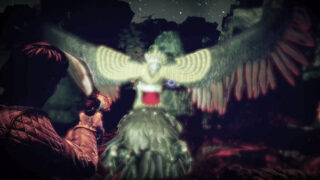 A new Shadows of the Damned trailer released today, showcasing a boss fight between protagonist Garcia "Fucking" Hotspur and a giant demon bird, whose weak spot appears to be its genitalia.
Needless to say, Garcia slays that pendejo.
Developed by Grasshopper Manufacture and published by Electronic Arts, Shadows of the Damned is a hell-based third-person shooter that launches for PlayStation 3 and Xbox 360 next Tuesday.