US PlayStation Store Update: May 18, 2010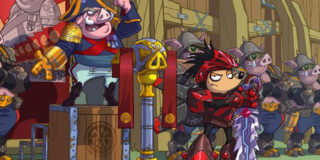 This week's PlayStation Store is in. New to the store is Konami's Rocket Knight, the second episode of Sam & Max: The Devil's Playhouse, The Price Is Right, and tons of other downloadable bits.
There are demos for Rocket Knight, ModNation Racers, Iron Man 2, and Tiger Woods PGA Tour 11 to download, as well.
Check out the full update below.
Spring Fever (ends 5/24)
Super Street Fighter II Turbo HD Remix ($7.49; reg. $14.99)
Price Updates
Joust Permanent Price Drop (now $1.99, original price $4.99) *Offer good through Monday, 6/1
Championship Sprint Permanent Price Drop (now $1.99, original price $4.99) *Offer good through Monday, 6/1
Dynogems Sale (now $1.99, original price $2.99) *Offer good through Monday, 6/7
PSone Classics
Bomberman Fantasy Race ($5.99)
Downloadable Games
The Price Is Right ($9.99)
Rocket Knight ($14.99)
Sam & Max: The Devil's Playhouse – Episode 2: The Tomb of Sammun-Mak (free with purchase of Episode 1)
Game Demos

Iron Man 2 Demo
ModNation Racers Demo
Rocket Knight Demo
Tiger Woods PGA Tour 11 Demo
Add-Ons
Battlefield: Bad Company 2 – Specact Assault Kit Upgrade Pack ($1.99)
Battlefield: Bad Company 2 – Specact Engineer Kit Upgrade Pack ($1.99)
Battlefield: Bad Company 2 – Specact Medic Kit Upgrade Pack ($1.99)
Battlefield: Bad Company 2 – Specact Recon Kit Upgrade Pack ($1.99)
Dragon Age: Origins – Darkspawn Chronicles ($4.99)
Guitar Hero 5 Add-Ons

"Livin' On The Edge" by Aerosmith ($1.99)
"Love In An Elevator" by Aerosmith ($1.99)
"Rag Doll" by Aerosmith ($1.99)
Aerosmith Track Pack ($5.49) – Downloadable Track Pack featuring "Livin' On The Edge", "Love In An Elevator", and "Rag Doll" by Aerosmith. Please Note: Many songs are available both as singles and as part of a Track Pack, so please carefully consider your purchases before downloading.

Record Of Agarest War: Item Pack 8: Power Up+ (free)
Record Of Agarest War: Item Pack 11: Massacre Kit ($0.99)
Record Of Agarest War: Item Pack 12: Animal Kit ($0.99)
Record Of Agarest War: Points Pack 3: Reinforcement Point Pack ($4.99)
Record Of Agarest War: Points Pack 4: Additional G+Ep ($3.49)
Rock Band Add-Ons

"Beat It On Down The Line" – Grateful Dead ($1.99)
"Cumberland Blues" – Grateful Dead ($1.99)
"Scarlet Begonias" – Grateful Dead ($1.99)
"Throwing Stones" – Grateful Dead ($1.99)
"Touch Of Grey" – Grateful Dead ($1.99)
"U.S. Blues" – Grateful Dead ($1.99)
Grateful Dead Pack 03 ($9.99) – Build your Rock Band library by purchasing this song game track pack: Grateful Dead Pack 03. This pack includes "Beat It On Down The Line", "Cumberland Blues", "Scarlet Begonias", "Throwing Stones", "Touch Of Grey", and "U.S. Blues" by Grateful Dead.
"A Girl Like You" – The Smithereens ($1.99)
"Only A Memory" – The Smithereens ($1.99)

Rock Band Network Add-Ons

"Days Without" by All That Remains ($1.99)
"Energy" by The Apples in Stereo ($0.99)
"He Sleeps In A Grove" by Amberian Dawn ($1.99)
"Sequestered In Memphis" by The Hold Steady Fake ($1.99)
"Talk About" by Dear And The Headlights ($0.99)

Split/Second – All Vehicle Unlock ($2.49)
Split/Second – Time Savers Pack ($4.99)
Split Second – All Track And Mode Unlock ($2.49)
Game Videos
Pulse 5/18 Edition
After Burner Climax Launch Trailer
Blacklight: Tango Down – Madness Of War Trailer
Brink: Container City Preview Part 1 Trailer
Brink: Container City Preview Part 2 Trailer
Brink: Container City Preview Part 3 Trailer
Brink: Freedom Of Movement Trailer
Dante's Inferno – Trial Of St. Lucia Editor Trailer
Dante's Inferno – Trial Of St. Lucia Trailer
Dragon Age: Origins – Darkspawn Chronicles Trailer
Kingdom Hearts: Birth by Sleep Teaser Trailer
Lead And Gold Gangs Of The Wild West Release Trailer
ModNation Racers – Hero Showdown Trailer
ModNation Racers PSP – Behind the Scenes
The Price Is Right Trailer
Section 8 Tutorial Video Trailer
Soldner-X 2: Final Prototype Trailer
Music
echochrome Soundtrack ($2.99)
echochrome Piano Remixes Soundtrack ($2.99)
echochrome Soundtrack Bundle ($4.99)
Themes and Wallpaper
Non-Game Themes: Phineas And Ferb Premium Theme ($1.49)
Non-Game Themes: Surrogates Theme ($1.49)
Beach Breeze Dynamic Theme ($2.99)
Desert Sunset Dynamic Theme ($2.99)
Mountain Escape Dynamic Theme ($2.99)
DP Space Odyssey Dynamic Theme ($2.99)