Fable II: Knothole Island Hits January 13th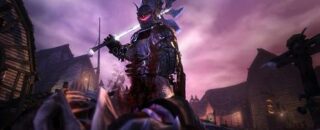 Lionhead released their eight video documentary for Fable II today, where they confirm that the highly-anticipated Knothole Island downloadable content will be releeasing on the Xbox LIVE Marketplace on Tuesday, January 13, 2009. They've also released two brand new screenshots.
The Knothole Island expansion will be released for 800 Microsoft Points and introduce all new adventures for Fable II.
Also on the Xbox LIVE Marketplace on January 13th is a free content update for Fable II. The update will give players many gifts as well as let them play co-op with their friends who've purchased Knothole Island if they don't want to do so. Some of the free items include: Knight's Boots, Assassins Gloves, a special Weight Loss Potion, a collectible silver book and more. The update will also let players check their stats in over 50 new leaderboards on the Lionhead site.
Last but not least, a brand new premium theme for Knothole Island has been released on the Xbox LIVE Marketplace for 250 Microsoft Points in promotion of the downloadable content.
Release Date of Knothole Island [Lionhead Development Blog]