Granblue Fantasy Fes 2019
Dec 12, 2019

-

Dec 15, 2019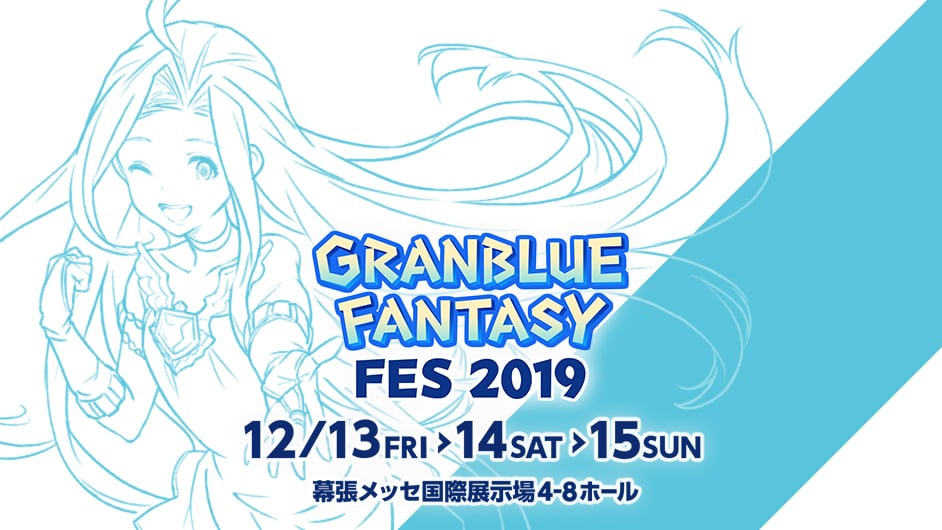 Granblue Fantasy Fes 2019 will run from December 13 to 15 at the Makuhari Messe in Chiba, Japan.
The scale of the 2019 event promises to be even greater than that of the 2018 event. Like 2018, it will include stage programs featuring voice actors from the game and special concerts, as well as new attractions.
Cygames has confirmed it will debut the latest trailer for Granblue Fantasy: Relink and two new trailers for Granblue Fantasy: Versus at the event.
Here is the full schedule of events (all times are JST):
December 13
9:00 – Opening
17:00 to 18:00 – Stella Magna Pre-Opening Day Special Concert – A special concert from Stella Magna led by composer Tsutomu Narita.
18:00 – Pre-Opening Closing / Start of Granblue Night Party Orders
19:00 to 21:00 – Granblue Night Party – Get lost in a Granblue Fantasy live music performance. A passionate performance of character songs from Stella Magna and their backup band. Featuring Stella Magna, Yuuki Ono, Nao Touyama, Asami Imai, Sakura Tange, Hisako Kanemoto, and more.
21:00 – Closing
December 14 (YouTube, Periscope)
9:30 to 10:15 – Opening – Featuring Yuuki Ono, Emiri Katou, Nao Touyama, Ryouta Oosaka, Yuito Kimura, and Tetsuya Fukuhara.
10:30 to 11:15 – Official Cast Stage – Granblue Fantasy characters appear in the real world…! Photograph the stage by way of the official cast!
11:30 to 12:30 – Granblue Fantasy So Far 2019 – A look back on Granblue Fantasy in 2019. Let's remember the past year together with everyone! Featuring Yuuki Ono, Emiri Katou, Nao Touyama, Yuito Kimura, and Tetsuya Fukuhara.
12:45 to 13:30 – Official Cast Stage – Granblue Fantasy characters appear in the real world…! Photograph the stage by way of the official cast!
14:30 to 15:45 – Stella Magna / Special Concert at Granblue Fantasy Fes 2019 – A special concert from Stella Magna led by composer Tsutomu Narita. Featuring Stella Magna, Taro Kobayashi, CHiCO (from ACE), and STEVIE (from 44MAGNUM).
16:15 to 19:15 – Granblue TV Channel! Fes Edition – Featuring Yuuki Ono, Emiri Katou, Nao Touyama, Minoru Shiraishi, Asami Imai, Tetsu Inada, Yoshihisa Kawahara, Kana Ueda, Madoka Yonezawa, Ryouta Oosaka, Kanae Itou, Rika Tachibana, Yuito Kimura, and Tetsuya Fukuhara.
19:15 to 20:00 – Granblue Fantasy Fes 2019 Special Show: Ao no Kiseki "The Journey of Blue" – A two-day exclusive special show that looks back on your adventures in the sky thus far. Look back on your trails in Granblue Fantasy with beautifully detailed video and music, and a powerful and wondrous production.
20:00 – Closing
December 15 (YouTube, Periscope)
9:30 to 10:15 – Opening – Featuring Yuuki Ono, Emiri Katou, Nao Touyama, Yuichi Nakamura, Yuito Kimura, and Tetsuya Fukuhara.
10:30 to 11:15 – Official Cast Stage – Granblue Fantasy characters appear in the real world…! Photograph the stage by way of the official cast!
11:30 to 12:30 – Granblue Fantasy Q&A – The producer and director of Granblue Fantasy answer user questions submitted in advance. What kind of questions and answers will there be this time? Featuring Yuuki Ono, Emiri Katou, Nao Touyama, Yuichi Nakamura, Tsutomu Narita, Yuito Kimura, and Tetsuya Fukuhara.
12:45 to 13:30 – Official Cast Stage – Granblue Fantasy characters appear in the real world…! Photograph the stage by way of the official cast!
14:30 to 15:45 – Granblue Fantasy Fes Special Character Concert – That character concert that became a hot topic at Granblue Fantasy Fes 2018 returns. This year even more songs will be added to the program. Bring your Tlepilli and get excited!
16:15 to 19:15 – Granblue Official Broadcast Christmas Special Edition – Featuring Yuuki Ono, Emiri Katou, Nao Touyama, Minoru Shiraishi, Asami Imai, Yuichi Nakamura, Yoshihisa Kawahara, Ami Koshimizu, Ryouta Oosaka, Rika Tachibana, Takuya Eguchi, Yuito Kimura, and Tetsuya Fukuhara.
19:15 to 20:00 – Granblue Fantasy Fes 2019 Special Show: Ao no Kiseki "The Journey of Blue" – A two-day exclusive special show that looks back on your adventures in the sky thus far. Look back on your trails in Granblue Fantasy with beautifully detailed video and music, and a powerful and wondrous production.
20:00 – Closing