Granblue Extra Fes 2019 Osaka
Aug 2, 2019

-

Aug 4, 2019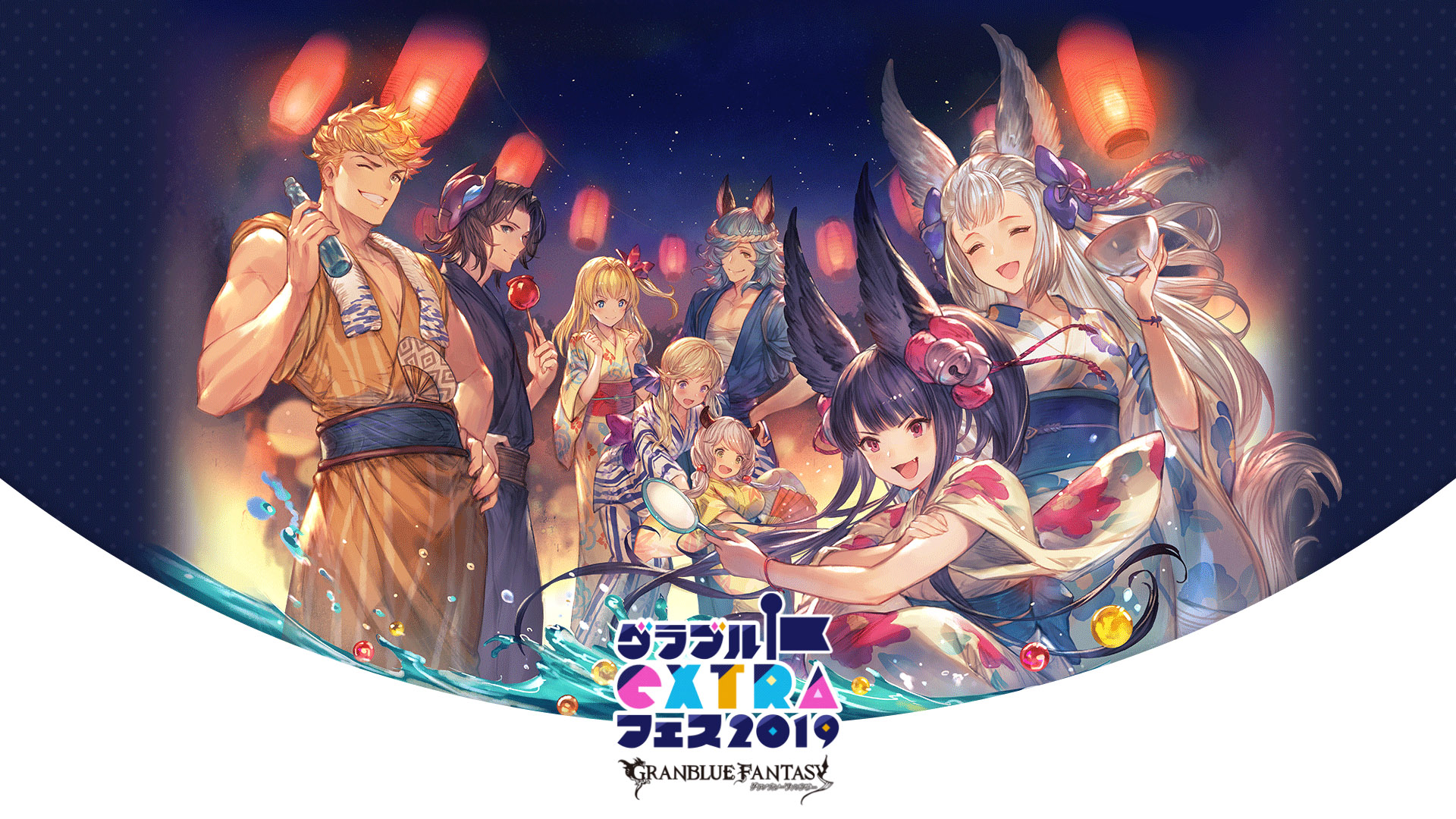 Granblue Extra Fes 2019 Osaka will run from August 3 to 4 at INTEX Osaka, Japan.
Live Stream
Cygames will host a "Granblue Broadcast: Height of Summer! Special" live stream from Granblue Extra Fes 2019 in Osaka on August 3 from 18:00 to 21:00 JST. You will be able to watch it on YouTube, Niconico, and Periscope.
The event will feature the latest in-game information and future developments for the Granblue Fantasy smartphone game. While not specifically teased for the live stream, Granblue Fantasy: Versus was previously confirmed playable at Granblue Extra Fes 2019, and director Tetsuya Fukuhara recently tweeted he was editing the next trailer, so it is possible we will see it during the broadcast.
The live stream will feature the following guests:
Yuuki Ono (Gran / Lancelot voice actor)
Emiri Katou (Sierokarte voice actor)
Nao Touyama (Lyria voice actor)
Minoru Shiraishi (Lowain voice actor)
Asami Imai (Vira voice actor)
Kaori Nazuka (Charlotta voice actor)
Tetsu Inada (Ladiva voice actor)
Madoka Yonezawa (Ferry voice actor)
Rika Tachibana (Yuisis voice actor)
Yuito Kimura (producer)
Tetsuya Fukuhara (director)
Stage Schedule (not live streamed)
August 3

09:00 – Opening
10:00 to 10:30 – Special Character Concert Screening – The popular concert from Granblue Fantasy Fes 2018 on the big screen.
11:00 to 12:00 – Official Cast Stage Show & Photo Session – Granblue Fantasy characters appear in the real world!
13:00 to 14:00 – Extra Fes Special Talk Stage – The voice actors for various characters assemble. In addition to stories about Granblue Fantasy, you may also get to hear some casual discussion you do not hear during the game. Featuring Yuuki Ono, Emiri Katou, Nao Touyama, Minoru Shiraishi, Kaori Nazuka, Tetsu Inada, Madoka Yonezawa, and Rika Tachibana.
15:00 to 16:00 – Stella Magna Special Concert Stage – Stella Magna, which performed a special concert at Granblue Fantasy Fes 2018, plays its well-known music with stimulating concert sounds. Featuring Stella Magna, Taro Kobayashi, CHiCO (from ACE), STEVIE (from 44MAGNUM), and Haruka Shimotsuki.
17:00 – Closing

August 4

09:00 – Opening
10:00 to 10:30 – Special Character Concert Screening – The popular concert from Granblue Fantasy Fes 2018 on the big screen.
11:00 to 12:00 – Official Cast Stage Show & Photo Session – Granblue Fantasy characters appear in the real world!
13:00 to 14:00 – Extra Fes Special Talk Stage – The voice actors for various characters assemble. In addition to stories about Granblue Fantasy, you may also get to hear some casual discussion you do not hear during the game. Featuring Yuuki Ono, Emiri Katou, Nao Touyama, Minoru Shiraishi, Tetsu Inada, Madoka Yonezawa, and Rika Tachibana.
15:00 to 16:00 – Stella Magna Special Concert Stage – Stella Magna, which performed a special concert at Granblue Fantasy Fes 2018, plays its well-known music with stimulating concert sounds. Featuring Stella Magna, Taro Kobayashi, CHiCO (from ACE), STEVIE (from 44MAGNUM), and Haruka Shimotsuki.
17:00 – Closing