Mobile Suit Gundam: Battle Operation 2 for PC launches May 31
PC version finally dated.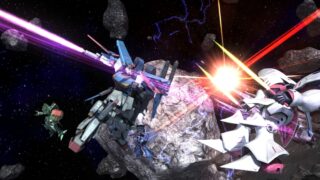 Mobile Suit Gundam: Battle Operation 2 will launch for PC via Steam on May 30 at 10:00 p.m. PT / May 31 at 1:00 a.m. ET, publisher Bandai Namco and developer B.B. Studio announced. The application download is available now.
The free-to-play team battle action is currently available for PlayStation 5 and PlayStation 4, and first launched in July 2018.
Over the years, the game has been updated and now features over 350 Mobile Suits to collect and 17 playable maps inspired by locations based on the popular anime series.
Here is a brief overview of hte game, via Bandai Namco:
Mobile Suit Gundam: Battle Operation 2 features intense six-versus-six online team combat that immerses players in epic battles set in the Gundam universe. The game pits Gundam pilots from all around the world in a fight for survival as they operate their favorite Mobile Suits, battling on land and in space. Players can enhance their mecha with different loadouts and customization options using DP, an in-game currency that can be earned in battle.

Mobile Suit Gundam: Battle Operation 2 adds a new dimension to mecha combat with Infantry Battles, where players can enter and exit their mecha to repair other units, place bombs in enemy bases, or request support fire to help decide the outcome of the battle.