Viking roguelite twin-stick shooter Odinfall announced for PC
Due out in Early Access this summer.
Publisher Fireshine Games and developer Ember Paws Games have announced Viking-themed roguelite twin-stick shooter Odinfall for PC. It will launch in Early Access via Steam this summer, with a closed alpha planned for April 10. Sign-ups are available here.
Here is an overview of the game, via its Steam page:
About

Wreak vengeance in a post-apocalyptic world as one of multiple outcasts on a quest to prevent Odin from triggering a second Ragnarok. Because the world ending once just wasn't enough.

It's now up to you to, once and for all, make ODIN FALL…

Procedural Levels

Never fight (or die) the same way twice! Enter the procedurally generated post-apocalyptic ruins of Sweden and fight your way through hordes of outlandish enemies. Can you survive the wastelands of the Bluetooth bandits, abandoned cities filled with zombie Vikings or giant mutant rats?!

Unique Upgrades

Choose from a wide range of playable outcasts, each with their own unique abilities!

Punch gods in the face with your robot arm as the Cyberserker. Slice your way through mobs with the Dark Elf. Stampede your foes as a Viking Moose. Mine gold to upgrade your gear as the Dwarf, or dual wield miniguns twice your size as the manic Gnome. Upgrade characters with unique skill trees and unlock new skins and customizations.

More characters will be added over the Early Access period, free of charge!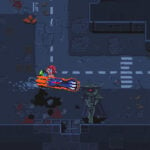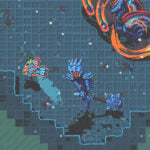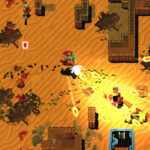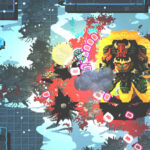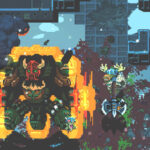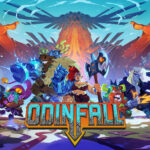 Loads of Weapons

Shoot first… ask questions never!

Frantic, furious, and fast-paced shooting. Loads of weapons, loads of modifications, and endless combinations!

Want a minigun that shoots homing bullets covered in acid that heals you?… You got that!

Want a crossbow that shoots seven arrows at once, bounces around corners and freezes enemies?… You can do that!

Want a giant fork to… fork things?… OK, I guess… You do you…

Traverse the Wastes

Choose your path and fight your way through post-apocalyptic Sweden. Avoid the enemy patrols or take them on for better rewards.

Escape danger with secret exits. Hunt around for hidden shops. Or demolish your own route with destructible levels and seek out loot drops to upgrade your arsenal.

The Arena Awaits

Take on the endless Viking hordes in the arena to test your skills and unlock the best weapons… can you make it out alive?

Key Features

Multiple unique playable characters.
Fast-paced twin-stick shooting and melee combat.
Huge assortment of outlandish weapons.
Large array of gun modifications.
Procedurally generated levels.
Upgrades, abilities, skill trees, and more!
Crazed AI robot Gods!
"Odinfall is an outrageously over-the-top, fun, and frantic roguelite shooter that fans of the genre are going to dig," said Fireshine Games product manager Rob Feather in a press release. "Ember Paw has some truly awesome ideas for where they want to take the game throughout Early Access, and we can't wait to invite players along for this godly ride through a post-apocalyptica later this summer. Because honestly, in what other game can you launch an assault against Odin as a viking moose?"
Ember Paw Gaems founder and lead developer Oscar Axelsson added, "Announcing Odinfall for the first time today really is a dream come true. As a new studio, I'll forever be grateful to the people and institutions that have supported us along the way, starting with the amazing support from The Game Incubator here in Skovde, and now with our publishing partner at Fireshine Games. I can't wait for players to jump into the closed alpha next month to check out what we've been working on."
Watch the announcement trailer below. View the first screenshots at the gallery.
Announce Trailer