Summer Game Fest 2023 live kickoff show set for June 8, 2023
Featuring a live audience for the first time.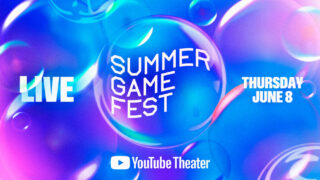 Summer Game Fest will return in 2023 with a live kickoff show on June 8, 2023, which will be streamed across all major platforms including YouTube and Twitch, the show announced.
For the first time, Summer Game Fest's world premieres, live gameplay demonstrations, and announcements will take place in front of a live audience of fans at YouTube Theater at Hollywood Park in Inglewood, California. Tickets will be available for purchase in early 2023.
"Over the past three years, Summer Game Fest has cultivated an incredible community around the world through our digital-first events, and we're thrilled to invite thousands of fans to experience the Summer Game Fest show in-person for the first time in 2023," said Summer Game Fest curator and host Geoff Keighley in a press release. "In keeping with tradition, we'll have tons of exciting announcements from the developers that are pushing the games industry forward, and will once again highlight other publisher digital events, demos, and more surprises to be announced in the coming months."
The full lineup of Summer Game Fest 2023 participants and activities will be announced in 2023.