TGS 2022 official live stream program schedule announced
Featuring Bandai Namco, Capcom, Konami, Square Enix, and more.
The Computer Entertainment Supplier's Association has announced the official streaming program schedule for Tokyo Game Show 2022, which will run from September 15 to 18 at Makuhari Messe in Chiba, Japan.
During the four-day event, 38 programs will be streamed online, 29 of which are "Official Exhibitor Programs" sponsored by 26 exhibitors. You will be able to watch them on various platforms in cooperation with overseas platforms and online media, including IGN (United States), DouYu, bilibili, Douyin, and Huya (China), and more. Programs can also be accessed through the "TGS Special Page" on Steam.
Most programs will be streamed in Japanese, however English speakers will be able to watch each stream with a simultaneous English interpretation. Some programs will also offer a simultaneous Chinese interpretation.
Here is the full schedule:
(All times are Japan Standard Time.)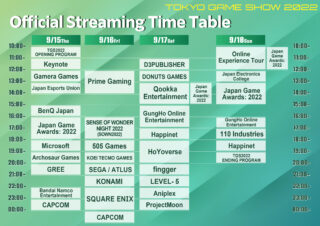 September 15
September 16
September 17
September 18