No More Heroes III for PS5, Xbox Series, PS4, and Xbox One launches October 6 in Japan
Includes Japanese audio for the first time.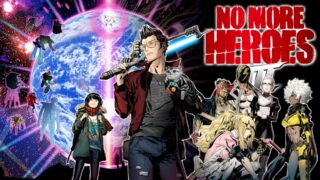 No More Heroes III will launch for PlayStation 5, Xbox Series, PlayStation 4, and Xbox One on October 6 in Japan for 6,800 yen, publisher Marvelous and developer Grasshopper Manufacture announced. The PlayStation 5 and PlayStation 4 versions will be available both physically and digitally.
A Digital Deluxe Edition will also be available for 7,800 yen, which includes a copy of the game, 70-page digital art book, and 22-track digital soundtrack.
The updated version of No More Heroes III will feature enhanced graphics, as well as 4K resolution and 60 frames per second frame rate support on PlayStation 5 and Xbox Series. Additionally, it will include a full Japanese audio option, which will also be added to the Switch version via a free update.
The full Japanese voice cast is as follows:
Travis Touchdown (voiced by Kazuya Nakai)
FU (Jess Baptiste VI) (voiced by Yuki Kaji)
Damon Riccitiello (voiced by Junya Enoki)
Sylvia Christel (voiced by Marina Inoue)
Jeane (voiced by Shinichiro Miki)
Shinobu Jacobs (voiced by Eri Kitamura)
Bad Girl / Ohma (voiced by Yuuko Sanpei)
Mr. Blackhole / Native Dancer (voiced by Hiroki Yasumoto)
Gold Joe / Sniping Lee (voiced by Tetsuharu Oota)
Black Night Direction / Paradox Bandit (voiced by Tomokazu Sugita)
Henry Cooldown / Vanishing Point (voiced by Katsuyuki Konishi)
Midori Midorikawa (voiced by Reina Ueda)
Sonic Juice (voiced by Junichi Suwabe)
Notorious (voiced by Kenjiro Tsuda)
Bishop Shidux (voiced by Kenichi Suzumura)
NT Kamui (voiced by Souma Saitou)
Kimmy Howell / Dr. Juvenile (voiced by Nozomi Yamamoto)
Destroyman True Face (voiced by Kouichi Sakaguchi)
Marvelous will also host a No More Heroes III Official Live Stream on June 30 at 21:00 JST, during which voice actors Junya Enoki and Katsuyuki Konishi will play the PlayStation 5 version of the game. You will be able to watch it on YouTube.
In the west, No More Heroes III is due out for PlayStation 5, Xbox Series, PlayStation 4, Xbox One, and PC via Steam this fall via publishers XSEED Games and Marvelous Europe.
No More Heroes III first launched for Switch on August 27, 2021.
Watch a new trailer below. View a new set of screenshots at the gallery.
Multiplatform Release Date Trailer