LOST EPIC Early Access version 1.3.0 update now available
Final area and more added.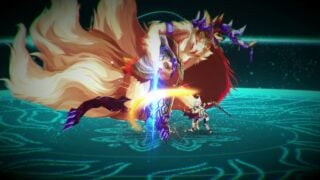 Publisher and developer One or EIGHT and developer Team EARTH WARS have released the version 1.3.0 update for the Early Access version of 2D side-scrolling action RPG LOST EPIC, which adds the final area, as well as new transcended weapons and secret techniques.
Get the details below.
The Final Area "The Abyss" Awaits

Bosses from the story mode return with more power.
This update will finalize the entire main storyline of LOST EPIC and will allow players to advance to the final area, "The Abyss." In The Abyss, the gods known as the "God of Everlasting Darkness" and the "Twin Gods" await the player.
And as a new Tiding, the "Eye of Providence" is obtainable. By activating the "Eye of Providence," a hidden path will become visible in areas you have explored in the past.
At the end of these paths, you will be able to acquire the "Mist," an item necessary for further Tidings and weapons.
You will be able to upgrade your character by visiting areas you already cleared.
There are "Returning Bosses," which are bosses that you have slayed in the story but have returned more powerful. Slaying them again will lead to better equipment for the player.
The new area "The Abyss" is very different from the usual Sanctum you have explored, and the enemies that appear there also change.
A challenging boss battle "Returning Boss" can now be faced by the player.

Transcended Weapons and Secret Techniques

Weapons can now be further enhanced. Adding more weapons that can be Transcended.
"Secret Techniques," triggered by combining Divine Skills, has been added. Allowing for a more diverse combo.

Version 1.3.0 Added Content

Additional Elements

Story up to the ending implemented.
Additional area "The Abyss" implemented.
Equipment.
Tidings.
Divine Skill.
Quests that can be ordered from NPCs.

Enhanced Parry

When successful, enemy's attack hardness is increased, and guard shaving is increased when enemy is hard
The first shot of the weak attack of the great sword has been changed to be able to be accumulated.
Attack power and guard sharpening are increased when pooling.

Changed so that the status menu always opens when the menu is opened.
Swapped the item and material menus.
Fixed various menu bugs.
Achievements have been added.
Torches, fishing rods, solid blades, rough-hewn bows, and heavy axe loaves added to the black market.
Added materials and weapons to the journal
Minor adjustments and bug fixes.
LOST EPIC is available now in Early Access for PC via Steam.
Watch a trailer for the new update below.