INDIE Live Expo 2022 set for May 21 to 22
First-ever two-day version of the event.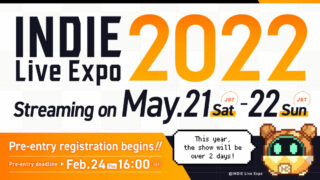 Ryu's Office will host INDIE Live Expo 2022 from May 21 to 22, the organizer announced.
The first-ever two-day version of the event, the live stream will simulcast in English, Japanese, and Chinese on YouTube, Twitch, Twitter, and other platforms to be announced.
Day one will spotlight currently available independent games, including information and a focus on gameplay footage.
Day two will feature world premieres of brand new, unannounced games, as well as new information on previously announced titles, and an "INDIE Studios Around the World" feature and live performances.
INDIE Live Expo Winter 2021 set a new viewership record of 13.9 million viewers around the world, showcasing more than 560 titles.
Developers interested in taking part in INDIE Live Expo 2022 can pre-register for the event starting today until February 24 at 2:00 a.m. ET.
The next issue of INDIE Live Expo Letter will also release on February 4, which includes useful information about game marketing, promotion, and development, along with details on the impact from participating in INDIE Live Expo Winter 2021.
"We set new records with our last event and have even higher expectations for INDIE Live Expo 2022, which is all thanks to participating publishers, developers, and viewers from all over the world," said Ryu's Office founder Ryuta Konuma in a press release. "We have exciting things planned, and look forward to using our resources and platform to show amazing games from creators to more people than ever before!"