TGS 2021 Online Preparation Special live stream for September 1
Exhibitors, titles, and more to be announced.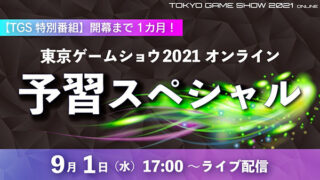 The Computer Entertainment Supplier's Association will host the "Tokyo Game Show 2021 Online Preparation Special" live stream on September 1 at 17:00 JST, the company announced. You will be able to watch it on YouTube.
The program will announce the following contents for Tokyo Game Show 2021 Online:
Tokyo Game Show 2021 Online Outline
List of Exhibitors
List of Exhibiting Titles and Products (No. 1)
Official Exhibition Program Time Schedule
Amazon Special Exhibition
Indie Games / Sense of Wonder Night
List of Playable Demos (No. 1)
Tokyo Game Show VR
Tokyo Game Music Fes
Collaboration T-Shirts and Official T-Shirts
Opening Ceremony Outline
Official Sponsors Announcement
Online Experience Tour
Online Business Discussions Appointments
Additional Influencer Recruitment
Future Schedule
Tokyo Game Show 2021 Online will run from September 30 to October 3.