UNBEATABLE Kickstarter campaign launched
The "anime-juiced" rhythm adventure game with a "heavy focus on music and emotions."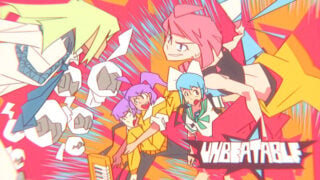 D-Cell Games has launched the Kickstarter campaign for "anime-juiced" rhythm adventure game UNBEATABLE, and will release the UNBEATABLE [white label] demo for PC via Steam tonight.
The Kickstarter campaign is seeking $55,000 in funding to release UNBEATABLE for PC, Mac, and Linux in 2023. A release for additional platforms is currently not planned.
Pre-production on UNBEATABLE began in early 2018 and ended in mid-2020, before finally entering full production.
Here is a brief overview of the game, via its Kickstarter campaign:
UNBEATABLE is a game where music is illegal and you do crimes.

It's a narratively-hyperfocused dense exploration game where two-button rhythm combat powers more or less everything.

One half is this: you explore the game world, meeting terrible people and building a setlist for your upcoming concerts. Helping strangers, practicing with bandmates, sleeping in all day—it's your funeral, you'll only have so many days before each big event!

The other half is this: arcade-flawless rhythm gameplay powered by an entirely original soundtrack. It's simple but frenetic—sure, there's only two buttons, but there's a lot of visual variety to the setpiece-styled battles. Want to groove exclusively to the rhythm gameplay? We'll have an Arcade Mode available for you to play from the start!

In the world of UNBEATABLE, music has been outlawed, but a small girl has decided to bring it back. Beat finds herself tangled up in her plans…and in the crosshairs of both police and a mysterious new enemy…
The UNBEATABLE [white label] includes "SIDE A Track 1," which features six songs from the game and lets players learn more about the world of UNBEATABLE. It also features toggles for both the VHS filter and post-processing, as well as controller presets.
Watch the UNBEATABLE Kickstarter trailer below.