Yuri short mystery visual novel Kanda Alice mo Suiri Suru. announced for Switch
Written by Flowers series writer Hatsumi Shimizu.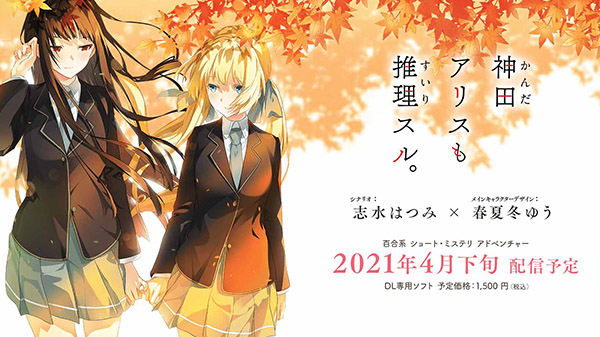 El Dia has announced yuri short mystery visual novel Kanda Alice mo Suiri Suru. for Switch. It will launch via the Nintendo eShop in late April in Japan.
The game's scenario is written by Flowers series and Kudan no Folklore writer Hatsumi Shimizu, and main character design is by Yuu Akinashi. The main voice cast includes Kana Ichinose (Alice Kanda), Yui Ishikawa (Houju Sawaragi), and Akari Kitou (Akira Hodaka).
Here is a summary of the game's story, via its official website:
Alice Kanda was worried about her first year at Miyukinomori Girls' High School. Her best friend Akira Hodaka stopped attending their archery club for a while due to an incident. She is said to have wrecked the archery club's championship cup, but Alice didn't believe her best friend could do such a thing. Despite of Alice's worries, her best friend decided to leave the archery club…

"There is an amazing fortune-teller in this school!" Alice heard from her classmates. Alice told her best friend about the rumored fortune-teller in the tea ceremony club, located in one of the club buildings in the back of the schoolgrounds.

When Alice and her best friend headed to the tea ceremony club after school, they were greeted by an unbelievably beautiful, black-haired girl—so beautiful that you'd question whether she really exists. Her name: Houju Sawaragi. Houju asks, "What don't you want taken away from you?"

Their encounter in the twilight restarts a heart that had come to a halt.
View a set of screenshots at the gallery.