Experience announces dungeon RPG Mon-Yu for Switch
Due out this summer in Japan.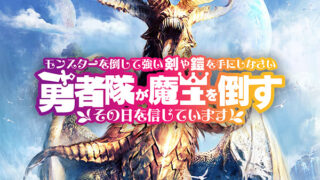 Experience has announced Mon-Yu, a new dungeon RPG for Switch. It will launch this summer in Japan.
The game's full title is actually Monster wo Taoshite Tsuyoi Ken ya Yoroi wo Te ni Shinasai. Yuusha Tai ga Maou wo Taosu Sono Hi wo Shinjiteimasu. (Defeat Monsters to Get Strong Swords and Armor. We Believe in the Day the Heroes will Defeat the Demon Lord.) Mon-Yu is the official abbreviation.
Mon-Yu is developed by the staff behind Undernaughts: Labyrinth of Yomi, with character designs by Mota and monster designs by Akifumi Yamamoto. Its staff includes producer Hajime Chikami, director Motoya Ataka, and composer Naoaki Jimbo.
Further details will be announced during the "EXP Channel 3rd Season #24" live stream on March 26 at 21:00 JST.
Watch a teaser trailer below. Visit the teaser website here.