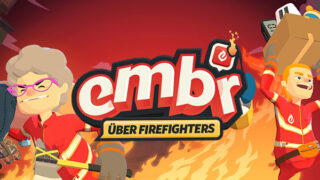 Publisher Curve Digital and developer Muse Games will release Embr for PlayStation 4, Xbox One, Switch, and PC via Steam this summer, the companies announced. The game is currently in Early Access for PC via Steam and Stadia.
Here is an overview of the game, via its Steam page:
About

The Emergency Services Revolution has begun! Become an Embr Respondr™ today! Fight fires and save lives while climbing the ladder of success, all within the comfort of flexible working hours. Embr's mission is simple; bring über firefighting to everyone, everywhere.

As an Embr Respondr™️, you'll answer calls for help, and with the addition of EmbrGigs, you can make extra money by delivering food, helping clients move, salvaging valuables, and much more! Break down doors, clear gas leaks, elude expensive security systems, and put out fires—no job is too big for an Embr Respondr.

Join us in what leading tech experts are calling "the startup of the century", and become the hero we all know you are!

Key Features

Respondr Coordinated Response – Tackle jobs with up to three friends and fellow Respondrs™ to make even the deadliest fire a co-op fuelled stroll through the park.
Save the Day, Your Way – Break down doors, smash windows, fix electrical circuits, clear gas leaks, evade security systems, and do whatever it takes to get the job done and get paid!
Long and Extensive Career Path – Climb the ladder of success as you become the best in the business. Take on 8 varieties of jobs across 17 neighborhoods and two districts. Rescue clients and valuables, salvage goods and cold hard cash, escape from sinister competitor traps, clean up gas leaks, and even deliver food under fire! Amass ratings and unlock even richer jobs from corporate clients.
Personalized Equipment Service – Be a cut above the competition by purchasing and upgrading over 20 new tools. Scale building with the Grapplr, throw yourself or your clients safely out the window with the parachute, or keep your clients cool with the ice gun. With over 100 clothing and vehicle upgrades with different capabilities purchased directly from Embr, you can tailor your experience, in style. Welcome to modern private firefighting.
THE Emergency Services Revolution – Join the brand new Embr Early Access program and partner with us to shape the future of Embr as a valued Embr Respondr and Community Member! Leave your feedback anywhere from Steam forums, Embr Discord, to emails and social media. We read them all. And remember to give us a Wishlist and Follow!
Watch a new trailer below.