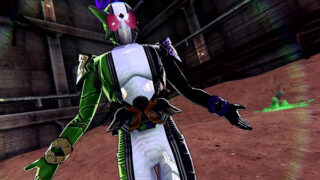 Bandai Namco has released a short gameplay video for "hero chain action" game Kamen Rider: Memory of Heroez featuring playable character Kamen Rider Double.
The company also announced that it will premiere a pre-launch special program on October 15 at 21:00 JST featuring previously unseen gameplay and debuts of the latest footage. Other content includes an interview with Kamen Rider Zero-One actor Fumiya Takahashi, a conversation between opening movie director Koichi Sakamoto and producer Kentarou Matano, and more.
Here is a brief overview of the game, via Bandai Namco:
Kamen Rider: Memory of Heroez is the the latest Kamen Rider home console game! The very first Kamen Rider "Hero Chain Action" home console game!

Skillfully manipulate the form change of the Kamen Riders in battles, make full use of different actions with gadgets in the main story, and witness the original story as the different Kamen Riders' life intertwines!

Experience even more amazing and advanced Kamen Rider action than in the previous Kamen Rider home console titles.
If you missed it, watch the Kamen Rider Zero-One gameplay video here and Kamen Rider OOO gameplay video here.
Kamen Rider: Memory of Heroez is due out for PlayStation 4 and Switch on October 29 in Japan, as well as in Southeast Asia with English subtitles. Read more about the game here.
Watch the footage below.