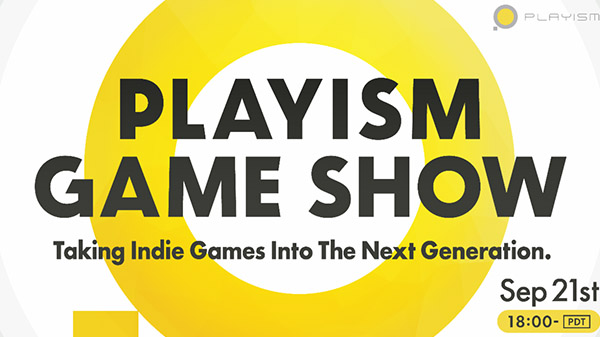 Playism will host the Playism Game Show on September 21 at 6:00 p.m. PT / 9:00 p.m. ET, where it will share a "vast lineup of announcements," the company announced. You will be able to watch it on YouTube in English, Japanese, and Chinese.
Hosted and interpreted live by J-mon, the two-hour show will feature "world premieres, exciting new information on unreleased titles coming to next-gen systems, a comment from President of Gearbox Publishing Steve Gibson who Playism have worked together with in the past on Subnautica, and reveals of acclaimed Asian indie games Playism is preparing for release in 2020 and 2021."
Playism Game Show will serve as Playism's pre-Tokyo Game Show 2020 Online lineup reveal party. Tokyo Game Show 2020 Online will run from September 23 to 27, and many Playism Game Show titles will be featured at the show.
"There are games created by one person, or by small teams, simply because the creators wanted to," said Playism executive producer Shunji Mizutani in a press release. "They are created because of the passion of these people towards their art. This passion is not something that can be imitated with huge budgets and large teams. These are the games that we have supported for almost a decade. These, are Indie Games."
Stay tuned.