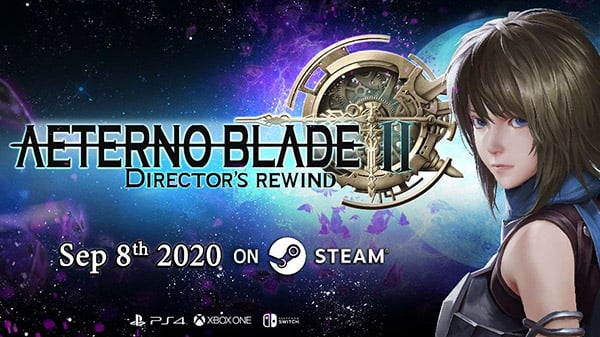 AeternoBlade II: Director's Rewind and the original AeternoBlade will launch for PC via Steam on September 8, developer Corecell Technology announced.
The PlayStation 4, Xbox One, and Switch versions of AeternoBlade II, which are available now, will also receive a free "Director's Rewind" update "soon."
Corecell Technology also announced six costume downloadable contents for AeternoBlade II: Director's Rewind due out on release day: "Sea Breeze," "Stunning Ruby," "Lemon Mimosa, "Pineapple Royale," "Summer Blossom," and "Fuzzy Grizzy."
Here is an overview of the game, via Corecell Technology:
About

AeternoBlade II: Director's Rewind challenges you to reclaim the power of time and defy the abyss in a fast-paced action / puzzle platformer environment. Rich on features you need to master combat, solve tricky puzzles, and have quick reflexes to succeed. Get ready for hours of mastering both martial- and time-manipulation arts to solve mind-bending puzzles and defeat merciless hordes of enemies.

Key Features

New and improved time-combat synergies.
Revised combat move sets.
Enhanced and alternate powers introduced to the three main characters.
Revamped levels, encounters, puzzles to improve game flow.
New areas, relics, and secrets yet to be discovered.
Improved NPC and monsters behaviors.