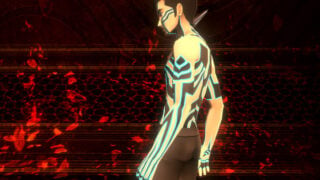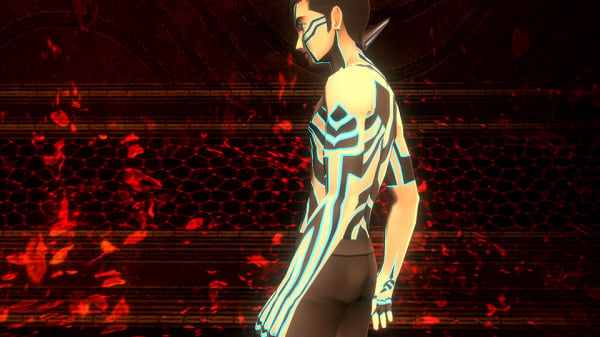 Atlus has released a new set of Shin Megami Tensei III: Nocturne HD Remaster screenshots.
Here are some details, partly via the PlayStation 2 version's manual and official website, and partly newly translated information:
Prologue

It seemed like an ordinary day…

A high school student is on his way to meet his friends so that they can visit their sick teacher at the Shinjuku Medical Center. But as he rides the subway, he falls asleep and has a strange dream. He dreams that the world is about to end…

He arrives at the hospital and, aside from his friends, finds it completely deserted. After searching the building, he finds a man who describes what he saw in his dream. Frightened, he then comes across a curious old woman with a child.

The young man finds his teacher, only to witness the destruction of Tokyo. This is the Conception, the ending of the world in preparation for its rebirth.

As the young man lies unconscious, the child reappears With an innocent whisper, the child gives him the key to survival—Magatama.

When he awakens, he finds himself reborn as a demon. He discovers that the entire world has changed The earth is wrapped in a mysterious light as if it has been turned inside-out. It is now the Vortex World. He sees souls of tho dead and demons who live off of what they call "Magatsuhi," the element of life. Even though he has been imbued with amazing powers, he realizes that in order to survive, he must recruit demons to fight alongside him.

Why was the earth transformed? Why has he become a demon? To find the answers, he sets out on a long journey, unaware of what terrifying secret he is about to uncover…

Characters

Main Character (voiced by Junya Enoki) – An average Japanese high school student. He becomes involved with the Conception when visiting his teacher, Yuko Takao. His journey in the Vortex World begins once he has been granted demonic power.
Isamu Nitta (voiced by Takuya Eguchi) – A classmate of the main character. He has a relaxed personality; however he has a tendency to be cocky. He is fond of his teacher, Yuko. After the Conception, he is nowhere to be found.
Chiaki Hayasaka (voiced by Reina Ueda) – A classmate of the main character. Born and raised in an upper-class family, she has a habit of talking down to people. Like Isamu, she is also drawn into the Conception.
Hikawa (voiced by Daisuke Ono) – Chief technical director of a large communications company called Cybers, and a high-ranking officer of the Gaea cult. He is said to be the one responsible for the occurrence of the Conception. After the emergence of the Vortex World, he organizes the Assembly of Nihilo, which becomes one of the two strongest demonic forces.
Yuko Takao (voiced by Suzuko Mimori) – A teacher at the high school the main character attends. She is popular with the students bacause she emphasizes logical reasoning over memorization. She gives the main character advice throughout his adventure.
Jyoji Hijiro (voiced by Takeshi Maeda) – A writer for an occult magazine. He meets with the main character while collecting data for an article on the riot at Yoyogi Park. Even after the Conception, his sense of duty as a reporer pushes him to investigate further.
Blond Child (voiced by Mariya Ise) and Old Woman (voiced by Tamie Kubota)
Raidou Kuzunoha (voiced by Tomokazu Sugita) and Gouto (voiced by Jouji Nakata)

Systems

Press Turn Battle System – The battle system that Persona 5 is based on. The Press Turn Battle System can be said to be the basis for battle systems in Atlus titles. The key feature of Press Turn Battles is the simple ability to exploit the enemy's weakness. By exploiting an the enemy's weakness, the Press Turn icon in the upper-right of the screen will shine, granting the character another action. It is even possible to defeat enemies before they are able to attack. But be careful, because what applies to the enemy also applies to you.
Magatama – By equipping items known as Magatama, you can gain many benefits.

24 Different Magatama – There are a total of 24 Magatama. By ingesting different Magatama, you will gain various boosts in your stats as well as learn new skills.
Effects of Magatama – It is to your advantage to make use of all the Magatama you have. Since they have unique strengths and weaknesses, use them accordingly.
Learning Skills – As the main character levels up, there are times when he will learn a new skill from the Magatama he has ingested. By leveling up with various Mgatama, he can learn a spectrum of skills.
Defensive Characteristics – Each Magatama has a unique set of defensive characteristics. Use them to compensate for your weaknesses.
Use Magatama to Your Advantage – If you get hit by a type of attack that the Magatama you've ingested is weak against, you will take high damage. It is important to make sure you don't have the wrong Magatama equipped before boss battles.

Demon Negotiation – You can talk to demons and try to convince them to join your party or give you items. The main character has the option to talk with demons from the start, but other party members can learn to talk, too.
Demon Fusion – If you have more demons in your ranks than needed, try fusing some at the Cathedral of Shadows. By using fusion, you can create very powerful demons. If you fuse demon A with demon B, you will get demon C. Demon C will have his / her own skills, but will also inherit some skills from demon A and demon B. Be sure to take this into consideration before you fuse two demons together. The skills that will be carried over are displayed in green. Since they are randomly determined, try re-selecting the fusion participants until you get the skills you want.
Growth – By earning experience points and leveling up in battle, demons will be able to learn unique skills. Those new skills be carried over to newly born demons through fusion. Gift events, as well as events that power-up or diminish acquired skills may also occur in leveling up.
Signs of Change – If you continue to level up a demon that has shown Signs of Change, it will transform into a more powerful demon.
Difficulty – "Normal" is the standard difficulty level, while "Hard" Is the highest difficulty level. A "Merciful" difficulty level that allows inexperienced players to dive into the story without worry will also be available as free downloadable content.
Shin Megami Tensei III: Nocturne HD Remaster is due out for PlayStation 4 and Switch on October 29 in Japan, and in spring 2021 worldwide.
View the screenshots at the gallery.