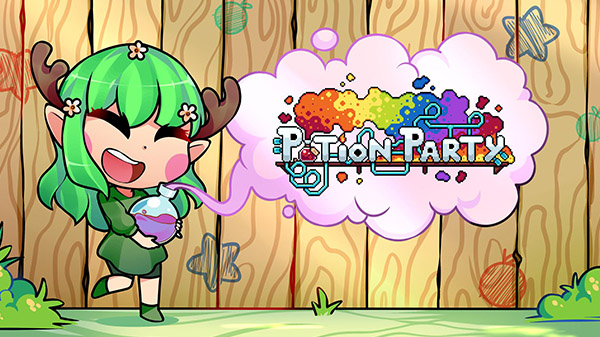 FusionPlay will release couch cooperative alchemy game Potion Party for PlayStation 4 and PC via Steam this winter, the Germany-based developer announced.
Here is an overview of the game, via its official website:
About

Step into the playful world of Potion Party, where you run your own alchemy shop. Grow Fruits and use them to produce your most wanted potions. Earn gold and unlock new, unique characters with special skills. Extend and decorate your shop with many different items. Defend yourself against enemies and intruders, that want to mess up your shop and try to make you nervous!

Play with your friends to share the fun or play against them in versus mode to determine the best brewing master. Are you ready for this boiling hot adventure?

Potion Party is a fun couch co-op alchemy game for one to four players. Working as a team, you and your friends must manage your own alchemy shop, brew colorful potions and deliver them to customers.

Earn money, upgrade your tools, decorate the shop and become a master alchemist!

Key Features

Produce, combine and sell potions in your shop.
Mix powders and potions to create new colors.
Upgrade and decorate your shop step by step with new items.
Play with your friends in Couch-Coop multiplayer.
Choose between three different game modes:

Story – Play alone or together with up to four players to unlock new stages and equipment.
Endless – Run your shop as long as you wish – you decide when the working day is over.
Versus – Play against your friends and set up 2 teams that try to deliver the needed potions the fastest.

Enjoy the cute pixel art graphics.
Defend against different enemies that want to ruin your store.
Play five to 10 hours of gameplay in total, to unlock everything.
Unlock more than 20 store items.

Decorative items give you passive boost, like bonus gold for each sold potion.
Store equipment unlock new abilities like creating coal with an oven to make black potions.

Unlock 11 unique Characters that each has a special ability.
Upgrade the abilities of your characters to maximize their bonus.
Watch a new trailer below.