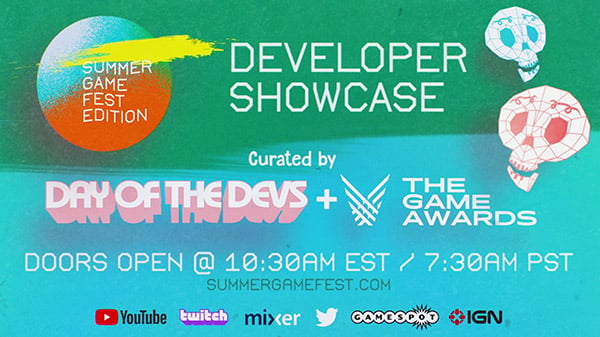 The first Developer Showcase of Summer Game Fest 2020 will air on June 22 at 8:00 a.m. PT / 11:00 a.m. ET, with a live performance of the Outer Wilds soundtrack by composer Andrew Prahlow and cellist David Tangney beginning 30 minutes prior. You will be able to watch it on YouTube, Twitch, Twitter, Facebook, Mixer, and more.
The Developer Showcase will spotlight a select group of "upcoming indie and AAA video games" curated by the Day of the Devs team and Summer Game Fest creator Geoff Keighley.
Confirmed titles include:
The Artful Escape (Beethoven & Dinosaur / Annapurna Interactive)
Black Book (Morteshka)
Drake Hollow (The Molasses Flood)
The Eternal Cylinder (ACE Team / Good Shepherd Entertainment)
Foregone (Big Blue Bubble)
Haunted Garage (Games For Ghosts)
Knuckle Sandwich (Andrew Brophy / Superhot Presents)
Panzer Paladin (Tribute Games)
Sea of Stars (Sabotage Studio)
Skate Story (Sam Eng)
Spinch (Akupara Games / Queen Bee Games/Jesse Jacobs)
Starbase (Kowloon Nights / Frozenbyte)
The Night is Grey (Whalestork Interactive)
Ynglet (Triple Topping Games/Nifflas)
World exclusive debut from Longhand Electric
World exclusive debut from thatgamecompany
"Surprise major AAA reveal"
The Day of the Devs team will also spotlight games from the students at Gameheads, which provides tech training to low income students ages 15 to 25 using video game design, video game development, and DevOps.
A musical performance by poet, rapper, singer, and producer Doseone (Sludge Life, Disc Room, Gang Beasts, and Samurai Gunn 2) will close out the showcase.
A second Summer Game Fest Developer Showcase will be hosted in July, which will include new content and debuts from Annapurna Interactive, MWM Interactive, Panic, Team17, ustwo games, and "many others."
Watch a trailer for the first Developer Showcase below.